MCNICHOL, Duncan (Sam), Capt (N) CD, Sea Log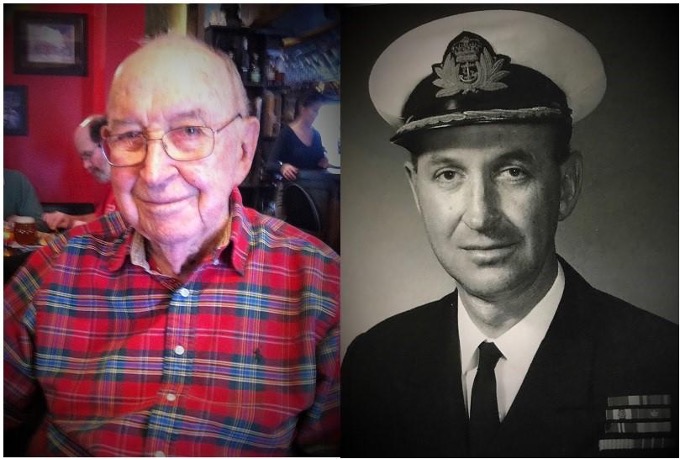 Duncan (Sam) McNicol passed away peacefully on Tuesday, November 28, 2017 at Riverpark Place Retirement Residence in Ottawa, Canada. He was 92.
Predeceased by his beloved wife, Dewilda (Dewy) in 2005, he is survived by children Douglas James McNicol, John Duncan McNicol (Kim), and Janet Anne (Peter Daechsel) and grandchildren James (wife Maria), Tessa, Genevieve, Andrew and Alison.
A career naval supply officer, Captain (N) Duncan McNicol, retired from the Canadian Navy after serving for 34 years. Born in Edinburgh, Scotland on March 30, 1925, Duncan's early childhood years were in Shanghai, China, where his father worked in the British cotton mill industry.
Duncan enlisted in the Canadian Navy in 1942 and graduated from Royal Rhodes Military College in Esquimalt, British Columbia in 1944. It was during this time that his naval pals started calling him Sam, the name by which he is best known to this day.
Sam served in WW2 as well as in the Korean War. In 1948 he married Dewilda May Lemon of Chipman, New Brunswick. They had met on a blind date in Halifax. Their first son, Douglas, was born in Halifax in 1951.
Sam's naval career gave him the opportunity to explore many parts of the world on the various ships on which he served. In addition to these tours of duty, he and his family moved numerous times, including stints in Ottawa, Vancouver, Halifax and England.
Sam and Dewy retired to Manotick, Ontario, where they enjoyed playing bridge with their friends as well as many rounds of golf at the Uplands Golf Course and various courses throughout Florida.
After Dewy passed away in 2005, Sam moved to Riverpark Place Retirement Residence in Nepean, where he lived until his passing. During his almost 12 years at RPP he made many friends with the residents and staff.
---