MARSDEN, Lambert (Monty) Arnold, MWO (Ret'd), RCOC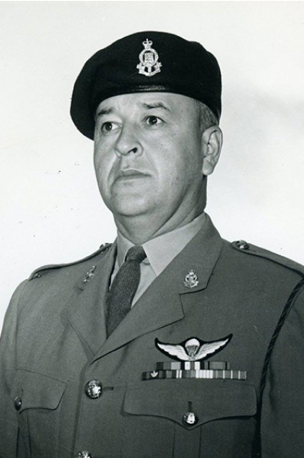 It is with deep sadness that the family of Lambert (Monty) Arnold Marsden announces his passing on December 20, 2019, at the age of 94, after a long battle with several cancers.
Born in Longford Mills, ON, he had survived the early childhood loss of parents, the 1930's depression, St. Peter Clavier residential school, and combat injuries in WW II as a paratrooper. Monty qualified at Shilo on 10 June 1944. He was in B Company 4 Platoon; jumped into Germany as part of Varsity and was wounded in the thigh on that drop 24 March 1945. He went on to be a Master Warrant Officer and Rigger at CFB Shilo and CFB Rivers, a BC Corrections Officer, and Executive member of the 1st Canadian Parachute Battalion Association. He has left a legacy of inspiration as a wise, fair, gentle, witty, kind, strong, honourable, dignified, brave, self-determined and well-respected role model. He was pre-deceased by his wife, a daughter and a granddaughter. He was deeply loved and will be greatly missed by his other 5 children, 20 grandchildren, 23 great grandchildren, and 2 great great grandchildren,
At his humble request, his body will be cremated and no funeral will be held. A celebration of his life will be organized for later next year.
In lieu of flowers, please support agencies that help veterans or work to improve mental or physical health, as he did throughout his life.
---