MACK, Carmine Leslie (Les), MCpl (Ret'd), CD, RCOC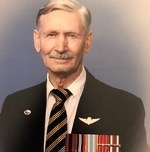 With deep sadness, the family announces the passing of Les Mack at the age of 94. He is survived by his daughter, Linda (Norm) Woodside; two grandsons, Steve (Deanna) Woodside and their children, Sheldon and Kendall and Scott (Kristy) Woodside and their children, Madison, Trenton, Kali and Sophie. He was predeceased by his wife of 52 years, Doreen in 2003.
Les lived a life of many adventures, having worked on fishing boats on the west coast and served in the merchant marines.
Les joined the RCAF in1944. After WW2 he re-enlisted but in the Army this time where he started off as a soldier then a paratrooper then went to 28 COD then 44 COR then re-mustered to Supply, RCOC and was posted to UNEF 1 then off to Germany 1964-67 then to Wainwright 67 until retirement 1975.
Les had a love for travel and learning. He often said that travelling was an education in itself. He spent a year posted to Egypt and used the opportunity to tour Israel, Greece, Scotland, and England. The posting to Germany made possible trips to Holland, Belgium, Switzerland, Italy and Austria.
A life-long learner, Les liked nothing better than a good philosophical debate and a good laugh.
A private graveside service will take place in the spring of 2022. An announcement will be made at that time. The service will be livestreamed for those unable to attend. If people so wish, donations in Les' memory may be made to APARC, 1002 South Railway Street SW, Medicine Hat, AB T1A 2W2 or the Poppy Fund of Robertson Memorial Branch #17, 702 2 St SE, Medicine Hat, AB T1A 0E1.
Condolences may be sent through www.saamis.com or to condolences@saamis.com subject heading Les Mack.
---