LYNCH, Henry "George", MWO (Ret'd), RCASC, MSE Op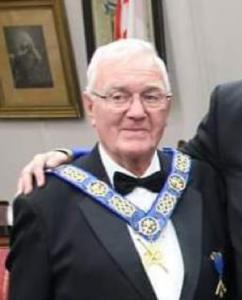 George, age 78, of Mount Denson, passed away in Valley Regional Hospital, Kentville on Wednesday, November 7, 2018.
George was predeceased by his wife, Lois Rose (Hiltz) (June 27, 2018) and son, Kevin.  He is survived by his daughter, Vicki, Lower Sackville and son, Darren, Three Mile Plains.
In 1958 George joined the Royal Canadian Army Service Corps serving in Transportation and Logistics.  He retired as a Master Warrant Officer in 1984 at Camp Debert, Nova Scotia.
In his retirement, he went on to work in Real Estate and Car Sales.  George was an avid bird watcher and he was a collector of Single Malt Scotches.  He was an active Mason for over 30 years having served in several offices for Kentville Lodge No. 58 including Worshipful Master, Welsford Lodge No. 26 and as a Grand Steward for the Grand Lodge of Nova Scotia.  He was active in the Ancient and Accepted Scottish Rite – Valley of Halifax, Annapolis Valley Scottish Rite Club and the Order of the Secret Monitor.  He was also a member of Royal Canadian Legion, Hants Co. Branch No. 009, Windsor.
Donations, in lieu of flowers, may be made to Valley Regional Hospital Foundation, 150 Exhibition St., Box 911, Kentville, NS B4N 4H8 or charity of one's choice.  Messages of condolence may be sent to the family by visiting: www.demontfamilyfuneralhome.ca .
---