LEECH, Richard (Dick), Major-General, (Ret'd), RCASC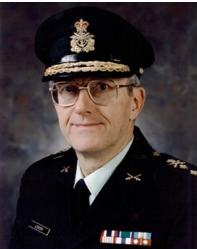 MGen. Richard (Dick) Leech passed peacefully at the Ottawa Heart Institute 19 February 2018.  Survived by his beloved wife and soulmate of 59 years Barbara (née Cunningham), daughter Wendy (Sean) Rathwell, son Colin (Mary Jane Kelleher) of Ottawa; grandsons Kevin (Natalie), Graham (Melissa Leduc), and Ian Rathwell; sister Gail Hirschi; and extended family and friends from coast to coast.
Dick served over 40 years in the Royal Canadian Army Service Corps and the Canadian Forces Logistics Service, holding numerous senior positions. He served on three UN peacekeeping missions, with NATO, and in Washington DC in addition to numerous postings across Canada.  He graduated from Collège Militaire Royal, Canadian Army Staff College, National Defence College, Carleton University, and George Washington University.
At his death, Dick was the senior surviving member of the Corps, a well-respected officer and gentleman known by virtually all the Corps.  In Ottawa, despite his illnesses in recent years he was a regular attendee and strong supporter of the RCASC luncheons.  He will certainly be missed.
Dick was an active and competitive athlete all his life.
Celebration of life to be held at a time and place to be advised.  Donations in memory of Richard may be made to the University of Ottawa Heart Institute or a charity of your choice.
---