LEAMAN, Elizabeth, Anne, Ret'd, CD, RCLS-Sup Tech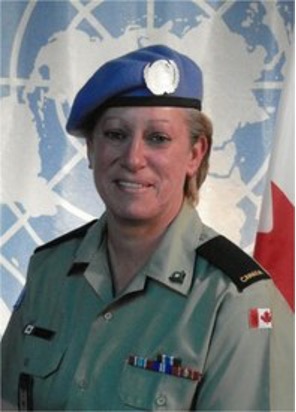 Elizabeth Anne, resident of Seaview, PEI formerly of Greenwood NS passed away surrounded by family on May 19th, 2021 at The Provincial Palliative Care Centre in Charlottetown, PEI at the age of 60 years.  She is survived by husband James Leaman, daughter Amanda Beals (Jordan Beals), step-son Mathew Vance (Leona Vance) and grandchildren; Damion Vance, Emma Vance and Willow Vance.
Elizabeth also known as "Sissy" to friends and family was born on August 3rd, 1960 in Charlottetown, PEI.  She joined the Canadian Armed Forces at the age of 19, where she spent 40 years proudly serving her Country.  During her time in the Military, Elizabeth completed 3 tours to the Golan Heights.  Among many things, the military life awarded her many lifelong friendships that she cherished so dear to her heart especially the love and friendship of her loving husband James.
Elizabeth was well known for sun seeking, as you could usually find her down by the beach or out on her deck.  Elizabeth enjoyed traveling with husband James and being around family and friends.  She officially retired from the Military in June 2020 when she moved back to PEI with her husband to enjoy the "cottage life".
In 2017, Elizabeth was diagnosed with both Leukemia and Colon Cancer.  Though tough, Elizabeth fought hard and took every chance to seize the day.  After 2 ½ years, Elizabeth lost her battle.
Visitation and Celebration of Life (by invitation only) will be held at Hennessey Cutcliffe Funeral Home in Charlottetown, PEI in guidance with the Provincial Covid regulations. Online streaming will be available for friends and family unable to be present on Saturday, May 22nd at 11:00 a.m. by visiting Elizabeth's obituary at www.islandowned.ca.
Donations can be made in honour of Elizabeth to the Canadian Cancer Society.
---