LASHKEVICH, Lawrence (Larry), Michael, BGen (Ret'd), OMM, CD, P.Log, Logistics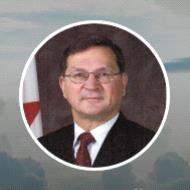 Larry passed away surrounded by his family at the Ottawa Civic Hospital on Sunday, April 15th 2018 in his 68th year. Devoted husband to Karen (Haddow) for 45 years. Loving father to Mark (Renée), Chris and the late Leslie. Proud grand-father to Paul, Corey and Daniel. Will also be missed by many relatives and close friends. Larry will be remembered for his love of travel, his faith in God and spending quality time with his family.
Larry joined the Canadian Forces on 9 Aug 1968 and graduated from the Royal Military College of Canada on 19 May 1972, with an Honours B.A.in International Studies. He retired from the Canadian Forces at the rank of Brigadier-General with over 36 years of service.
Larry was actively engaged in the entire spectrum of logistics planning, execution and operational support for Canada's Armed Forces at home and abroad. In this capacity he held a variety of command and staff appointments at all levels, with extensive experience in Joint Staff, NATO (Norway), United Nations and bilateral/multinational activities. His duties included responsibility for Logistics Doctrine and Operations for the support of Canadian Armed Forces operations outside of Canada. He served twice with the United Nations, in Cyprus and in Egypt. He was a key player in the Logistics Transformation of Canada's National Defence and for seven years led that Transformation as J4 Materiel/Director General Logistics. In 2005 he was appointed the Director General Materiel Systems and Supply Chain, Department of National Defence, responsible for: Materiel Requirements, Plans, Policy and Procedures; Materiel Information Systems; Supply Chain Operations; and Quality Assurance – where he served for 5 years.
A Certified Professional Logistician (P.Log), Larry was awarded the Order of Military Merit (OMM) and the Order of Merit of the Republic of Hungary, Knight's Cross.
Leaving DND in September 2009, he became the Director of International Business Development at Logistik Unicorp Ltd. Larry was also active in Logistics and Materiel Support matters outside of National Defence, with other government departments, national and international organizations and with other nations. He was President of the Canadian Institute for Procurement and Materiel Management (formerly Materiel Management Institute of Canada), was on the Advisory Board for the Bachelor of Applied Business (e-Business, Supply Chain Management) Degree at Algonquin College and continued to have extensive contact with Defence leadership in the fields of Supply and Logistics in a number of countries around the world.
Family and friends are welcome to pay respects at a Celebration of Life on Sunday, April 22nd, from 2:00 – 4:00p.m. at the Kanata Baptist Church, 465 Hazeldean Rd, Kanata, ON K2L 1V1.
A private interment will take place the day prior at Capital Memorial Gardens.
The family is suggesting that a donation could be made in Larry's name to the Heart and Stroke Foundation.
---