LAROCHELLE, Jess Randall, Pte (Ret'd), SMV, RCR. Log-Cook, RCLS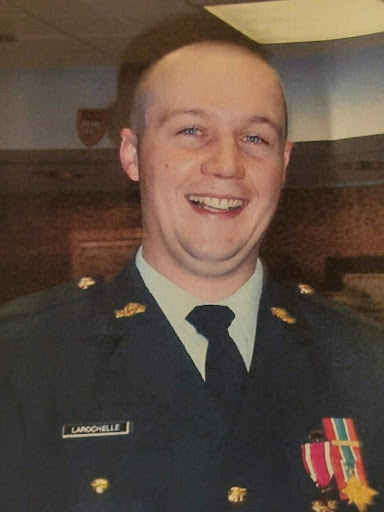 It is with profound sadness we announce the passing of our beloved son and brother Jess, at his home on Commanda Lake, on Wednesday, August 30, 2023 at the age of 40. 
Jess' service to his family, friends and country will forever remain a legacy to all who knew him. "Pro Patria". 
Cremation has taken place. No services will be held. In lieu of flowers, donations in Jess' memory to "Valour in the Presence of the Enemy" or Wounded Warriors Canada are suggested. 
To leave a memory or tribute for the family, please visit paulfuneralhome.ca or call the Paul Funeral Home at 705-724-2024.
Star of Military Valour Citation, awarded on March 14, 2007
On October 14, 2006, Private Larochelle of the 1st Royal Canadian Regiment Battle Group was manning an observation post when it was destroyed by an enemy rocket in Pashmul, Afghanistan.  Although he was alone, severely injured, and under sustained enemy fire in his exposed position at the ruined observation post, he aggressively provided covering fire over the otherwise undefended flank of his company's position.  While two members of the personnel were killed and three others were wounded in the initial attack, Private Larochelle's heroic actions permitted the remainder of the company to defend their battle positions and to successfully fend off the sustained attack of more than 20 insurgents.  His valiant conduct saved the lives of many members of his company.
Further details on Jess's exceptional service to his country and the attempts to have his SMV upgraded to the Victoria Cross can be found at the Legion Magazine article at the following link:
https://legionmagazine.com/en/jess-larochelle-a-canadian-soldier/
---