JOYCE, Donald "Bud", LCdr (Ret'd), CD, OC, RCN-Sea Log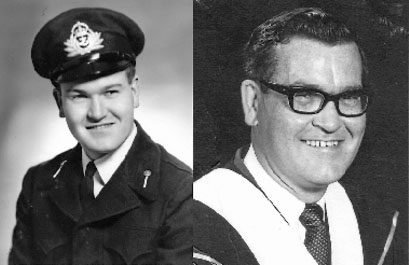 Budd passed away peacefully at The Moncton Veteran's Centre on July 15, 2022 at the age of 92.  He will be sadly missed by his wife Eleanor (Wright), who has been by his side for the last 12 years.  Born and raised in Ottawa, Ontario, he leaves behind his daughter Wynne (Fern) and son Wayne (Emilie) as well as stepdaughters Janet (Norm) and Ann (Jim) and stepson Jean-Marc (Anne-Catherine).  He was grampa to Carly, Kelly, Denis, Jeremy, Melodie, Daniel, David, and Jessica, and great-grampa to 10 great-grandchildren.
Budd began his career in the military, serving with the Naval Reserves and upon graduating from university, he joined the Regular Forces which was the start of a lifelong journey to destinations world-wide. He was very proud of his service to Canada and was highly regarded for his contributions to organizations such as NATO and The Pentagon.
Budd was intelligent, charismatic, and a chef extraordinaire. He loved to entertain and had an unusually sharp recollection of people and places, which made for many engaging conversations.
At home, Budd was a real handyman. He could sew, repair, paint, landscape, build, whistle, and sing a tune so beautiful it could bring you to tears.
A celebration of Budd's life will be held for immediate family and closest friends on Thursday, July 21, 2022 from 1-3 p.m. at Cobb's Funeral Home, 330 Whitepine Rd, Riverview (869-2007).  Masks are required for attendance.  In lieu of flowers, please consider a donation to the Alzheimer Society of Canada in Budd's memory. Online condolences may be placed at www.cobbsfuneralhome.ca
---