JOHNSON. Hubert Reginald, CWO (Ret'd), MMM, CD, Logistics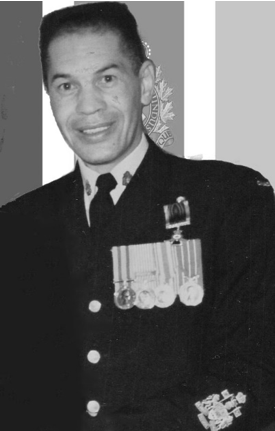 Hubert, age 87 of Jordantown, Digby Co. passed away April 21, 2018 in the Digby General Hospital. Born in Jordantown, Digby Co. he was a son of the late Arthur and Blanche (Slavin) Johnson.
He was a loving father to Marvin (Judi), Celia (David) Miller, Kerry Johnson, and remembered with love by his grandchildren, Shannon (Mark), Marcus, Jeanette, Marvin, Nicole, Tyler, Toni (Michael), Alexander (Deneisha), Davin, Ciera (Daniel), Taylor and his great grandchildren, Shaikirah, Alysha, Khaeli, Jaheim, Kaiden, Quincey, Lorenzo, Mia and Ryan, and a great great granddaughter. He was predeceased by his wife Greta and great great granddaughter Brielle Martin Bright,
Hubert join the Canadian Armed Forces Reserve in 1949 before enrolling in the Canadian Armed Forces in February 15, 1951. While in the reserves, his trade was a cook and when he joined the Regular Forces, he applied for engineer but it was unavailable, so he continued the cook trade.
Early 1973, Hubert was promoted and became the first African Canadian Chief Warrant Officer in the Canadian Forces. He was among the first recipients to receive the Military Merit Award in July 1973.
Hubert served in many units during his career including, Eastern Passage, 3 RCHA, Black Watch, Field Engineers in Gagetown and in Hamer and Werl, West Germany, Instructor and CSM with CF School of Administration and Logistics in CFB Borden, Ont. and Chief Cook in CFB Cornwallis, NS before retiring December 1977 at CFB Edmonton, AB. He completed tours in Korea, two tours with the United Nation in 1965 Gaza Strip, 1973 Egypt, and CFS Alert 1970.
After retiring from the CF, he was employed with the Keltic Lodge and Mountain Gap Inn as a chef for approximately 11 years and was a member of the Royal Canadian Legion, Branch #122 Annapolis Royal, NS. He was involved in many activities within the community including one of the founding members of the Acaciaville Conway Betterment Association and would go out his way to help anybody. He was chief cook and organized the annual harvest supper for member of the Acaciaville Baptist Church. He enjoyed gardening and was an avid farmer donating what he grew to the harvest supper. He loved to work on vehicle engines and built his own home.
Visitation will be 2-4 and 7-9pm Thursday, April 26, from Jayne's Funeral Home 7 Birch St. Digby. Funeral service will be held 2 pm Friday, April 27 from the Acaciaville Baptist Church. Pastor Galvin Simmonds and Pastor Theresa Character will officiate with interment in Maplewood Cemetery, Jordantown. 14 Wing Greenwood will be providing a 12-man Honour Guard.
Donations in Hubert's memory can be made to the Acaciaville Baptist Church. Family and friends are invited to sign the guest book at www.jaynesfuneralhome.com
---