HONCIU, Andrei, OCdt, RCLS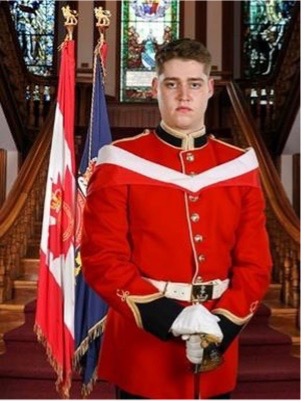 It is with broken hearts that we announce the tragic passing of Andrei Honciu, on Friday, April 29, 2022, at the age of 22.  Dearest son of Michaela and Leonard Honciu, loving brother of Luca Honciu.  Adored grandson, nephew, cousin, and boyfriend.  Andrei will be deeply missed and fondly remembered by his many friends, classmates, soccer team, and Royal Military College (RMC) community.  On graduation he was to have been commissioned a 2Lt in the RCLS.  Born on April 1, 2000, Andrei Honciu was raised in Galati, Romania, by his parents and grandparents.  He immigrated to Canada in 2006, where he completed his education at Milne Valley Middle School, followed by Northern Secondary School and was admitted at the RMC.  Andrei was a passionate soccer player, loved tennis and chess.  He was fluent in three languages (English, Romanian and French) and was proud of his culture and heritage, as his Romanian love of life inspired the ease and happiness he shared with all those around him.  Andrei will be remembered for his sense of humor that brought light and laughter into the lives of everyone he met.  Andrei always gave the best of himself and helped others in any way he could.  He was loved by all for his abundant generosity and kindness.  We will miss his smile, laughter, and boundless optimism, and we will keep him in our hearts until we meet again.
If desired, donations in memoriam may be made to: https://www.gofundme.com/in-loving-honour-of-andrei-honciu
Online condolences may be left at www.mountpleasantgroup.com.
---