HODGINS, John Henry, Sgt (Ret'd), CD, Sup Tech, RCAF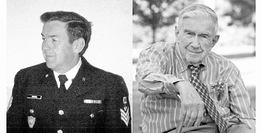 "The Old Man", received his final posting in his 88th year on 15 October 2022 John was born in Bracken, Saskatchewan, the first child of the late Albert Edward Hodgins and Minnie German. Beloved husband and best friend of Harriett Alma Isabel McDermid for 66 years. Loving Dad of Alex Hodgins, RCN LCdr retired, (Elizabeth) in Cornwall, Doug Hodgins, RCN Cdr retired, (Lesley) in Orleans, Laura Hodgins Lobsinger (Garry) in Stratford, and Coralee Mathews in Wemindji, Quebec. Granddaddy to MaryEllen (Pat Jeaurond), Sean (Sarah), Amanda, Chris (Miranda Tofflemire), Harriett Mathews and his six great-grandchildren: Eric, Connor, Kaleb, Jordan, Annabelle Jeaurond and Rebecca Hodgins.
John joined the RCAF in Toronto in 1952 as a supply technician. He was stationed at RCAF Station Aylmer ON, 6 Repair Depot Trenton ON, 5 Supply Depot Moncton NB, Air Materiel Command HQ/STelO RCAF Station Rockcliffe ON, 1 Fighter Wing Marville, France, RCAF Station Trenton ON, 450 Helicopter Squadron CFB Uplands, 2 AFMS CFB Ottawa South, NDHQ Director Materiel Authorization CFB Ottawa North, UN Peacekeeping in Ismailia, Egypt and NDHQ Director Supply Management Ottawa.
John hung up his uniform in 1983 and continued to work for the Department of National Defense in Ottawa until he retired in 1995. At that time, John and Harriett moved to Stratford, where John enjoyed golfing at the Muni and curling at the Country Club. They returned to the Ottawa area in 2021, living in Orleans.
Cremation has taken place and a Celebration of John's life followed by a small reception will be held on Saturday, October 29 at 2 p.m. at Epiphany Anglican Church, 1290 Ogilvie Road, Ottawa ON.
As expressions of sympathy in lieu of flowers, memorial donations to the local food bank or the charity of your choice are greatly appreciated. Condolences/Tributes/Donations to Hulse, Playfair & McGarry
www.hpmcgarry.ca
---