HELLSTROM, Sheila, BGen (Ret'd) CD, PAdm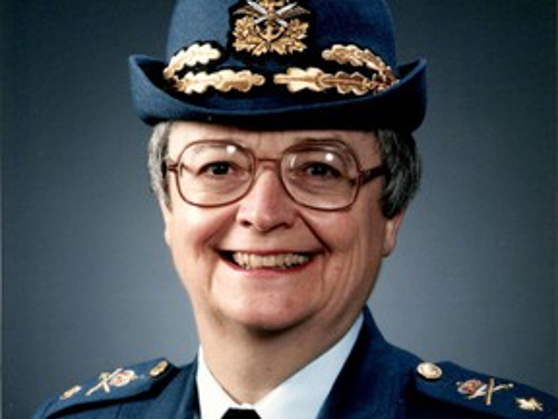 Sheila, age 85, passed away from natural causes on Monday, 7 December 2020 at her home in Ottawa. She never married and had no family of her own in Canada. She has 10 cousins in Sweden, only one of whom speaks English. Richard Akerstrom, 50 years her junior, met Hellstrom when he was 10 and translated for her when she came to Sweden to visit family and visited her in Ottawa three times.
Hellstrom was born in Lunenburg, N.S., in 1935 and graduated from Mount Allison University with a degree in biology and a minor in chemistry. She told Esprit de Corps magazine in a profile published earlier this year that she became interested in the military after hearing stories told by Norwegian sailors who visited the family home.
At age 20 she enlisted in the Royal Canadian Air Force in 1954. There were few trades open to women in those days, and Hellstrom went into administration. She was the first woman to graduate from the National Defence College, and the first woman serving as a Regular Force officer to be promoted in 1987 to the rank of Brigadier-General. Described as a "gutsy broad" in an official performance evaluation, she eventually rose to be Director of Women Personal and subsequently Director General Personnel. In 1989, she was appointed the chair of the Committee on Women in NATO Forces (CWINF). She retired in 1990, just a year after a ruling by the Canadian Human Rights Tribunal ordered the military to open all its positions, even combat roles, to women. Sheila believed that by including women into the Canadian Armed Forces (CAF), the organization would be stronger. Her contribution to the diversity and inclusion of the CAF in general, and the RCAF in particular, will not be forgotten.
After retirement Sheila consulted for the military on gender integration. Outside military affairs, she was a passionate lover of opera and symphony. She and Akerstrom would always attend concerts at the National Arts Centre when he visited. She loved hockey, especially the Ottawa Senators and the team's Swedish stars, and curling. She was a member of the Canadian Nordic Society and attended its meetings and lectures at the Army Officers' Mess. In March 2020 Sheila was recognized by Esprit de Corps Magazine as one of many women who are making a positive image in the world of defence.
Funeral arrangements have not yet been made.
From the RCLSA Lest We Forget Co-ordinator
Material for this obituary was derived from a profile published in Esprit de Corps Magazine, Vol 27, Issue 2, March 2020, an article by Blair Crawford of the Ottawa Citizen published on 12 December 2020, and a remembrance notice published by the RCAF Association on 11 December 2020. The photo is curtesy of Veterans Affairs/Postmedia.
---