HARTNETT, John, RCASC, MSE Op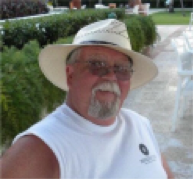 John passed away 8 January 2018 in Peterborough surrounded by his family, through laughter and tears, and on his terms at the age of 74.  The way we all hope to go; John, Dad, Poppa, Uncle John, MacGyver, Johnny Fever.
This guy was so many things to so many people.  Chief among them was an incredible husband to Marion, father to Jen (Chad), and Poppa to Riley and Jackson.
John joined the Army and the RCASC and served as an MSE Op. specializing in transport, and bus driving.  In retirement, he served as a volunteer driver with Community Care.   John was happiest behind the wheel.  Some folks have fish stories, but John would rather tell you how he maneuvered an 18-wheeler into and out of the narrowest alley in all of downtown Toronto!
John was a firm believer in the healing powers of Duct Tape….and many of us benefited (and were possibly victimized?) by his ingenuity, and MacGyver-like skills, especially when duct tape was involved!  There wasn't much that Johnny Fever couldn't fix…at least temporarily. Unfortunately, his lungs were one of the few things that were immune to that silvery gray magic, and after a long, and well-fought battle, they finally gave out on him, but not before he squeezed an extra few years out of life!
John was a great storyteller…. you could count on a laugh and a good yarn whenever he was around.  While he prided himself on being punctual, (something that was not genetically passed to his daughter), he was never in a rush.  He always took time to chat, check in, and make you feel special.  Oh, and he'd gladly serve up a kick in the backside if you needed one of those too! He loved spending time with his daughter, grandsons, siblings, in-laws, nieces, and nephews.  He took pride in all of their accomplishments and was often found singing the praises of various family members.  He loved any kind of family gathering and had many fond memories of Christmas parties, the famous Kinmount Fair, good times spent with good friends, and of course, the Hunting Camp.  Any chance to connect, reminisce, and hone those storytelling skills.
"Mr. Hartnett" gave the gift of his time to many people over the course of his life.  As Director of The Canadian Knights Drum and Bugle Corps and The Spirit Winterguard for many years, he was a champion for the youth of Peterborough.  Never too proud to shed a tear, you'd often see him wiping his eyes after a performance.  Being a member of one of these groups meant being one of 'Mr. Hartnett's kids' which came with the weight of knowing you had to give it your all and do your very best, but it also came with the reward of his immense pride when you did.  In later years, he devoted himself to helping as a driver for Community Care.  Even though his own health was failing, he never hesitated to do whatever he could for others.
John had an affinity for Plaid, Nascar, Lawn Care, and all things Chocolate…. particularly Reese's' Peanut Butter Cups…to be a daughter or grandson of John's was to know that your Halloween stash was going to be raided.  He could also be bribed with the promise of Chocolate Pie.
In lieu of flowers, donations to Kawartha Food Share, or Community Care Peterborough would be greatly appreciated by the family.  They hope that each person reading this is inspired to carry out a random act of kindness in honour of Johnny Fever….and please, "check your tire pressure".
---