HAGGLUND, Eric Scott, MWO (Ret'd), CD, Sup Tech, RCLS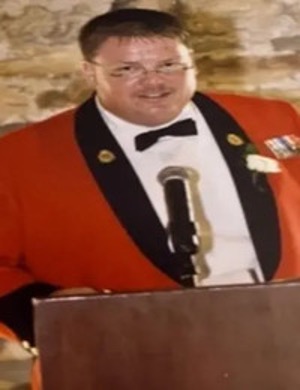 It is with much sadness that we announce the passing of Scott Hagglund on 18 June 2023 at the age of 60 years. Scott will forever be remembered by his loving wife Norma, children Lisa (Mike) and Mitch (Kelsie), and grandkids Ethan and Charlotte
Scott was born and raised in Paris, Ontario. As a farm kid, he spent much time outside, repairing the machinery and tending to animals – he would brag that the best summer job was shooting the gophers to protect the cattle. Scott also enjoyed playing sports, trying out for the local hockey team. He repeatedly joked that this was one area his size helped him move forward, but in his words, he was "a little too goofy" on skates to make it big.
After high school Scott enlisted in the army at the age of 18, and successfully served for 33 years. In the 80s Scott met Norma at CFB Edmonton. They wed in Newfoundland on 27 December 1986, and together they built a loving family. Scott taught his kids lots, but most notably was to work hard and enjoy sarcasm. They enjoyed family trips, exploring all provinces, and many states. As a couple, Scott and Norma traveled to tropical destinations where he was known to enjoy a few cold beers, and let's not forget the tequila sunrises!
Scott was passionate about his military career, which included several postings within Canada and five overseas tours. The military also provided the opportunity for Scott to excel in extracurricular activities; most notably completion of two Ironman competitions. Every posting, tour and event created new opportunities and lasting friendships that he treasured.
Scott was not only a proud veteran and father, but also a proud grandfather, or "Pop" to the kids. Scott always had a funny piece of advice or a joke. He also had a plethora of nicknames; Gaffer and Chucky were two of his favourites. While in hospital Scott would always share his hockey advice, and his stash of candies, with the kids.
With a final posting back to CFB Edmonton, Scott and Norma retired from their military careers and eventually settled on an acreage in Spruce Grove, AB. Scott loved Alberta for the camping, quadding in the mountains, and lack of humidity. Scott enjoyed numerous trips with his giant fifth wheel trailer and quad, with Norma riding beside him. When they were not out on an adventure, you could find Scott catching the NASCAR race or trying a new recipe on his smoker. Scott also spent countless hours in his garage – he was known to have the ability to fix anything and was a true MacGyver with a solution for every problem.
At Scott's request a formal service will not be held at this time. A day of celebration and condolence will be held in the coming months.
---