GRENON, Donald Paul, Sup Tech (Ret'd)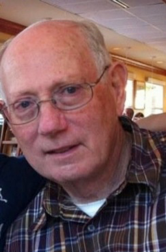 Don was born in North Hatley, Quebec 21 March 1939. He passed away 24 September, 2018 after braving hardships of failing health for years with Parkinson's disease. He leaves behind his wife of 56 years, Elizabeth; son Shane (Danielle) and grandsons, Jacob and Nathan.
As a young lad, Don joined the Army Cadets, RCN, RCAF – and lastly the Public Service. These services have taken him to many parts of the world. Over the years, he volunteered with Boy Scouts, Army Cadets, 888 Wing and the Air Force Museum. Don was the Barrack Warden at CFB Comox for a number of years.
Don enjoyed camping, fishing, travelling, making twig furniture, painting pictures, and belonged to a cribbage club for years.
No service by request.
---