GREEN, Malcolm, (Mac) Gardiner, CAPT (Ret'd), CD3, RCASC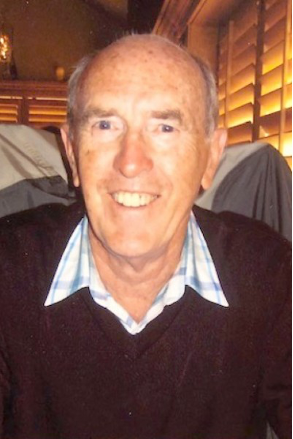 It is with great sadness that we announce the passing of a great man.  Malcolm Gardiner Green passed away peacefully November 23 2020.  Just 6 months after the passing of his true love Iris, his wife of 56 years, he decided it was time to be with her again.  Mac was a dedicated family man and he loved his kids and his grandkids.  He is survived by his two boys, Gregory and Geoffrey and his Grandchildren, Colton, Brodin and Jayden.
Malcolm was born January 18 1940 in Minto New Brunswick.  In his younger years he worked in the coal mines and for the carnival.
He joined the military January 8th 1958 at 17 (RCASC Royal Canadian Army Service Corp).  After 2 years he was deployed to Germany where he worked alongside his future father-in-law John (Red) Gordon.  John felt Mac was the perfect man for his daughter and they were introduced when he returned to CFB Shilo Manitoba in 63/64.
After a 6-week romance, they were married on July 25th 1964.  They were quickly posted to Soest Germany.  Mac would leave ahead of her and she would follow 3 months later by boat.  He was 24 and she was 25.  Her one condition was that they would get an apartment with a proper heater and not coal and if he didn't, she would be turning around and going home.  Upon her arrival she was disappointed to learn that their apartment was indeed coal and she turned to leave.  Mac quickly rectified the situation and they were moved into the officer's side.  That decision most likely changed the outcome for so many lives.  Iris knew what she wanted and wouldn't budge.
From Germany they returned to Shilo.  They weren't there long before they were posted to Vancouver and in 1972, they adopted Gregory, their first son.  After 2 years they were posted again.  This time to CFB Petawawa.  In 1975 they adopted another son Geoffrey. They weren't there long and made their way back West to CFB Edmonton as a Sergeant.
Mac enjoyed being a part of a competitive softball team while there.  He also enjoyed a lengthy curling career with the military and often travelled for Bonspiels.  He often mentioned his trip to Germany to play.  In 1978 he was deployed to the NWT to work jointly with the American military in the recovery of Cosmos 954, a Russian satellite that had crashed and spread radioactive waste.
Posted again back to CFB Chilliwack and promoted to Warrant Officer and then Master Warrant Officer he ran Base Supply and Clothing.  He was then posted to CFB St Hubert in the 80's.  It was decided that only he would go as he wanted to make a stable life for his children.  It was a hard decision and Iris did her best.  The life of a military wife was not without its challenges.  He got posted back to Chilliwack shortly after but was redeployed to work with the UN on a peacekeeping mission in Nicosia, Cypress.
Again, this was a challenging time for Iris but she held strong and managed to keep raising 2 young boys.  After returning from Cyprus, he was posted to Victoria to CFB Esquimalt PPCLI.  He once again decided not to move his family and he devotedly commuted home every weekend to watch his boys play hockey and to spend time with his love.
After 32 years of dedicated service, he retired June 2 1990 as a Chief Warrant Officer. This lasted the weekend and he was quickly asked to join the reserves full time in Vancouver HQ as a Chief Warrant Officer until he retired again in December 1994.  From Jan 95 to March 98, he worked as a civilian at CFB Chilliwack running supply for the cadets and also held supply for the reserves after the base closed in 97.
In March of 98 it was decided that his position could not be held by a civilian and they couldn't give it to an NCO so they reenlisted Mac and made him Captain Green. However, the requirements since he first enlisted all those years had changed.  He was required to get his grade 12 equivalent so he went to night school and obtained this at 58 years old.  He retired on his 65th birthday after a total of 47 years of military service both actively serving and civilian.
For his dedication and service, he received the CD3 medal and the Golden Jubilee.  He was active in the Legion and attended all the RCASC reunions all over Canada with Iris.
When not dedicating his life to the military, Mac enjoyed going to Whistler every year with Iris where they celebrated their anniversary.  They enjoyed long walks and just the pleasure of each other's company.  He enjoyed road trips to Alberta to visit his son Geoffrey and valued every minute he could with his grandsons.  He cherished the moments spent watching his granddaughter skate or just an afternoon spent in North Vancouver with Greg and his family.
There was an annual vacation to Osoyoos every year and he watched his grandkids grow up on the beach for one week every year and let his sons beat him at golf.  It was these moments where he was the happiest.  Surrounded by the people he loved and the ones who loved him dearly.  Christmas brought out the best in him and he made it special for all those who came calling both friends and family. Those memories will forever be etched into the minds of all those he leaves behind.
Think of him often and let a smile cross your lips.  He was a kind man, a gentle man and a loving devoted Husband, Father and Grandfather.  Remember the times he made you laugh or just made you feel happy to be around him.  He led a full life and he brought nothing but joy to all and he would want to see that joy continue.
It goes without saying that he will be dearly missed by all those he left behind and all the lives he touched along his incredible journey with his wife and kids.  He was laid to rest next to his love Iris on December 5th 2020 and it brings the family great peace to know that they are once again together.  They had a love that stood the test of time and they are walking the streets of Heaven hand in hand with a simple smile on their faces.
---