GRAY, Robert, Cpl, RCLS – Sup Tech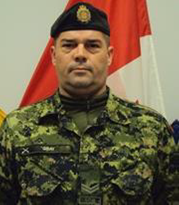 It is with sadness that we report the death of Corporal Robert Gray on 24 April 2021 at the age of 45.
Cpl Gray was a Material Management Technician posted to 1 Service Battalion in Edmonton, AB.  He enrolled in the Canadian Armed Forces in 2010 through the recruiting centre in Hamilton, ON, after which he completed his basic training at Canadian Forces Leadership and Recruit School in St-Jean-sur-Richelieu, QC and trade specific training at the Canadian Forces Logistic Training Centre in Borden, ON.  Cpl Gray was posted to CFB Edmonton in 2011 where he served with 1 Service Battalion and 1st Battalion Princess Patricia's Canadian Light Infantry (PPCLI).
Our thoughts are with his family, friends, and colleagues with whom he served.
---