GIBSON Mark Stephen, CWO(Ret'd), Supply Technician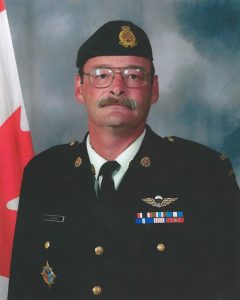 Depot Chief Warrant Officer, 7 Canadian Forces Supply Depot Canadian Armed Forces Veronica.Gibson@forces.gc.ca, / Tel: 780-973-4263 / Cell: 780-974-4576
Fellow Logisticians,
It is with profound sadness that I announce on behalf of the family, the passing of Chief Warrant Officer (Retired) Mark Stephen Gibson shortly after 2100hrs this evening, 22 July 2016, after a strong and courageous fight.  Mark passed away peacefully with family by his side.  It has been an honour and a privilege to have shared this final journey with Mark and his family.
Mark enrolled in the Canadian Armed Forces in March 1978 as a Supply Technician and retired in 2013 after 35+ years of loyal and dedicated service to his country and community.
Mark was first posted to 2 Svc Bn, Petawawa where he successfully completed his Basic Parachutists course. In 1979, he was posted to Service Commando of the Canadian Airborne Regiment with whom he deployed to Cyprus in 1981.  Upon his return, Mark undertook his Aerial Delivery course and continued to serve with the CAR in both 2 Cdo and then 3 Cdo.  Posted to Germany in 1986, Mark served with 313 Field Hospital and participated in the closure of Canadian Forces Europe.  In 1993, Mark was posted to 1 Svc Bn Calgary and assisted in their relocation to CFB Edmonton.  Mark then went on to serve in RQMS positions with 3 PPCLI and 1 Svc Bn and also served as the CQMS for CFB/ASU Edmonton.  Mark deployed to Velika Kladusa, Bosnia in 2003 and was posted to CFB Esquimault as the Log Br CPO upon his return.  Returning to CFB Edmonton in 2005, Mark served as the Area G3 Resource Manager and the 7 CFSD CWO/QSO.  As a final posting, Mark headed to Cold Lake, Alberta as the SAO.
Throughout his career, Mark's dedication and support of his personnel was particularly noted and appreciated.  In his final days, he was especially pleased and honoured to see the outpouring of support given by his 'military family' to his civilian family.  The anecdotes, stories and thoughts and prayers that have been delivered to me for Mark from coast to coast served to give comfort to Mark in these final days and he was very thankful to everyone for having his six.  He will be missed.  Servitium Nulli Secondus.
A memorial service will be held in the Normandy Room of the Royal Canadian Legion Branch 27, Fort Saskatchewan, Alberta at 1100hrs Thursday, 28 July 2016.  It will be followed immediately by the committal of Mark's remains within the Field of Honour at Fort Saskatchewan Municipal Cemetery.  The Normandy Room will be open from 1000-1400hrs for those who wish to gather prior and afterwards for reminiscing and more informal activities – what Mark would have wanted.
Donations in Memory of Mark may be made to Branch 27 of the Royal Canadian Legion at Fort Saskatchewan or to a charity of one's choice.
RCL Br 27 :9964 93 Avenue
Fort Saskatchewan
Alberta, T8L 2C5
The family requests that if anyone should have photos or stories of interest to share that we can include as part of his service that they be sent to me for inclusion.
---