GARBUTT, Kenneth. RCASC (Ret'd)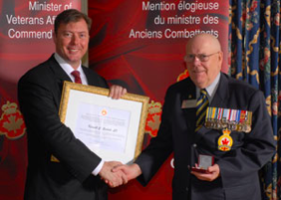 Ken passed away peacefully on 12 December with family at his side at Grace Hospice in Regina. He was 88 years old. Ken was born in Brampton, Ontario and has made Regina his home since 1975. He is lovingly remembered by Dorothy Garbutt his loving wife of 66 years, his daughter Phyllis, his son Wayne, his daughter Heather (Dan Josephson), his daughter Karen (Larry Freiheit) and their two children Chris and Liz Freiheit, and his son Kevin (Carmelita) and their two children Alicia and Gabby Garbutt, and his buddy Sarge (the dog).
Ken served in the Royal Canadian Army Service Corps for years and he was a proud veteran of the Korean War and longtime member of the Korea Veterans Association In 2000, Ken was also the Canadian representative to the International Korea War Veterans Assembly in Seoul, Republic of Korea..
He will also be fondly remembered by the many thousands of people he worked with during his long military career and his many years of community service to the Reserves, the Saskatchewan Army Cadet League, the Royal Canadian Legion, the Last Post Fund, the Corps of Commissioners, the Royal United Services Institute, and the Canadian Association of Veterans in United Nations Peacekeeping. He was a member of the Veterans Affairs Canada advisory council for south Saskatchewan since 2001 and prairie region since 2002. He was the president of the Saskatchewan/Manitoba Branch of the Last Post Fund having been a member since 1992 and a member of the National Council since 2005. As a member of The Royal Canadian Legion's speaker's bureau, Ken spoke to students throughout the year. Since 2001, he was co-chair of the Remembrance Day service in Regina and has been involved with numerous other commemorative events in his community.
In lieu of flowers, memorial donations may be made to any of the above-noted organizations.
---