FONG Dow Wing, RCASC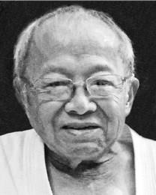 Dow Wing Fong, born 17 December 1927 passed away 28 October 2017.
Born in Campbellton, NB, he was the son of the late Mon Ding and Mah Shee Fong.  Dow spent his youth in Dalhousie, NB before moving to Halifax in the early 1940s.  Dow's father arrived as a very young man in 1891, to run several businesses and set down roots with Dow's mother Mah Shee.  Dow was among the first Chinese Canadians to be born in the Maritimes.  There is a plaque commemorating his family at Pier 21.
He served as a Navy reservist, subsequently joining the Army in the late 1940s.  He was a life-long member of the Royal Canadian Army Service Corps. 
Generations of friends will reminisce on the hosting Dow and his family provided at the Garden View Restaurant on Spring Garden Road.  Dow was the proud Chef and co-owner.  He was an active member of the Nova Scotia Chef's Association, of which he was treasurer for decades and loved to compete with his peers with the best of Cantonese cuisine that he could cook up.

Dow's home was the hub of a large, loving extended family who gathered frequently for big dinners hosted along with the love of his life, his wife of 52 years, Sharon ( nee Shiu Tuen Chan) Fong.  He is survived by Sharon, as well as sisters Kay Ali, Annie Jones, and brothers Mone Fong, George Fong; as well as his children, Greg (Trudy) Fong, Diana (Brent) Goodwin, Lisa (Dr. Glenn Sheiner) Fong, Angela Fong, Susan (J-P.) Komonen) and Benny (Wendy Friedman) Fong, eight grandchildren: Danielle, Gavin and Travis Fong; Colin (Lisa Radzikowski) and Jasper Goodwin; and Nikolas, Matthew and Joshua Komonen.
Dow loved photography and film-making.  He created a vast legacy of his life experience and those of his family and friends that will be enjoyed and shared for many years.  He loved to travel the world with his family and took them everywhere. 
Visitation will be at Cruikshank's Funeral Home located at 2666 Windsor St. Friday, Nov. 3rd at 2-4pm and 6-8pm.  Service to be held at Fort Massey United Church on Saturday, Nov. 4th, at 11 am with Rev. Trent Cleveland-Thompson officiating.  Interment will follow in Fairview Cemetery.  Memorial donations may be made to the Heart and Stroke Foundation or the Kidney Foundation.
To view or place an online message of condolence please visit:
www.cruikshankhalifaxfuneralhome.com
---