FARRELL, Laurence (Lou) P, LCdr (Ret'd), Sea Log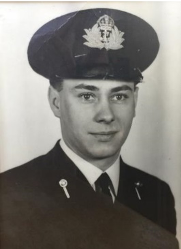 Lou, age 84, passed away peacefully at Victoria, BC January 10, 2020 in the presence of family.  He was predeceased by his wife Marlyn, and sons Kelly and Sidney.  He is survived by his son Casey and daughter Desirea, and grandchildren Zoe, Jill, Shane, Sidney, Madelaine, Jacqueline, Jonahs (Taewyn), Calvin (Sarah), Trevor, Darien, Dawson, and Aaron.
Lou joined the Royal Canadian Navy in 1954 as a member of the inaugural class of cadets at HMCS Venture, where he and his classmates formed lifelong bonds of friendship.  Lou served thirty-five years with the Navy, serving aboard HMCS Margaree among other ships and in postings to Halifax, Ottawa, Montreal and Victoria.  Positions included Public Funds Accounting Officer at CFB Esquimalt in 1976, SSO Logistics and Transportation at Maritime Command, Pacific in 1978 and Base Audit Officer at CFB Esquimalt in 1985.  Shortly thereafter Lou retired and finished his career as a civilian in the position of CFB Esquimalt Drug and Alcohol Counsellor.
After retirement, Lou and Marlyn moved to Central Saanich where Lou enjoyed his weekly swim with the "SOBs".  Later, they would settle on Gabriola Island where they made many deep and lasting friendships and where Lou took up watercolour painting and a passion for gardening.  Lou was a member and proponent of the AA program for over fifty years.  Through the program he made close and lasting friendships with people on Gabriola, in Victoria and across the country.  Lou is remembered fondly for his lovely garden, his kindness to all, his enthusiastic support for the interests and passions of family and friends, and his wise and compassionate aid to anyone on the journey of recovery and sobriety.
Family and friends are invited to gather to remember Lou and celebrate his life at 11:00 am Thursday March 26, 2020 at the Centennial United Church Assembly Hall, 612 David St., Victoria, BC.
---