EDWARDS, Norman Dean, Major (Ret'd), CD, RCAF, RCLS – Supply/Transportation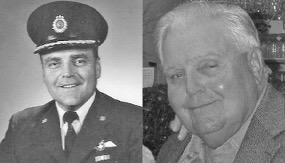 It is with a sad heart that we announce the passing of Norman Dean Edwards, on the morning of June 4, 2021, in his 90th year, at the Elizabeth Bruyere Hospital after a short fight with cancer.
He is survived by his loving wife of 68 years Rita (nee Palidwar), their children Karen (John), Debra (Ernie), and Janice (Conrad).  Lovingly remembered by his grandchildren Heather (Kai) and Jennifer and great- grandchild Jaxon.
Norm was born in Grand Prairie, Alberta and was the oldest of 6 kids. He grew up in a pioneer style farm 12 miles out of town.  Life on the farm, formal education in a one room schoolhouse and boarding school taught him to adapt and persevere.  He joined the RCAF in 1950 with a view to participating in the Korean Conflict as a pilot.
Upon graduation, he was posted to RCAF Station Winnipeg, to fly C-45 Expeditors, NAV trainers and it was here that he met Rita his loving wife who was his salvation and lifetime companion. The next 8 years were a blur with postings to Edmonton, Rivers, and Trenton, flying C-119 Boxcars and C-47 Dakotas.  It included the birth of 3 daughters and lots of time away flying.
All that flying finally caught up with him and due to medical issues, he had to give up flying and transferred to logistics as a Supply/Transportation Officer.  The next 22 years where equally hectic, posted back and forth between Trenton, Ottawa and Edmonton with a 2-year break in California as an Exchange Officer with the USAF.  He culminated his career as the Commanding Officer of 2 Air Movements Unit in Trenton, finishing off in the flying business.
After 33 years he decided to hang up the uniform and this time follow his daughters to Ottawa where they were attending university.  However, not one to take it easy, he became a public servant as part of DND, as a provisioning specialist on new equipment projects.  Over the next 13 years he spent much time traveling to and from Europe, negotiating with contractors and leading to successful project completions.  Upon reaching compulsory retirement age of 65, he hung up his suit and focused on spending time with family, curling, and golfing which all kept him young.
Norman was a self-taught man, who lived under the shadow of lingering medical conditions that could have taken him at any time.  It drove him to work hard, ensure his wife and daughters where ready for the future and he dedicated himself to the service of others.  He was a core member of the International Lions Club for 43 years and a active member of the United church right up to the end.
As he would put it, "it has been quite a run, after 3 career changes, 47 years of public service and too many moves to count, he still has his family and many friends.  He would not change a thing, except maybe to reduce his medical challenges."  He always wanted to go out with his boots on living life to the fullest and could not have imagined a better life with his wife Rita.
Norm received exceptional care from the TOH General 5 NW and Bruyère Palliative care ward.  We are extremely grateful for their compassion and professionalism. In lieu of flowers, donations in Norman's name can be made to Rideau Park United Church Ottawa.
Due to COVID restrictions a memorial service and burial will take place at a date to be determined.
---