DROUIN, Raymond (Ray), Capt. (Ret'd), MMM, CD, RCAF, RCLS-Padm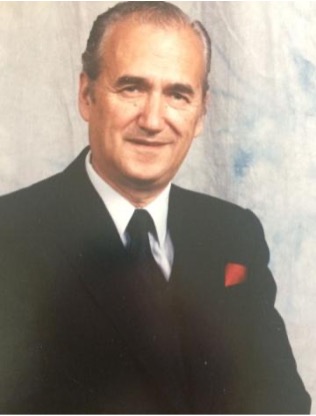 Ray passed away on Friday May 14, 2021, 4pm, at Portobello Residence, age 88, surrounded by his family.  He is survived by his wife and the love of his life of 65 years, Helen, and by devoted son Paul and loving daughter Samantha.  Proud grandfather of Shannon.  Dear brother of Denise and Jacqueline.  Long-time friend to Gaston, Pat, Louise, Gilbert, Tony, and so many others from the Friday Breakfast Club and from the Royal Canadian Legion Orleans Branch 632 and from the Royal Canadian Air Force Association (410 Wing RCAFA).  Will be fondly remembered by son-in-law and coffee buddy Ray Gould, and by nieces, nephews, brothers- and sisters-in-law
A 35-year proud veteran of the Canadian Armed Forces, Ray joined the RCAF in 1951.  He served at Canadian Forces Bases Aylmer, Trenton, St-Sylvestre, Senneterre, St-Hubert, Longue-Pointe, Valcartier, NDHQ Ottawa, and in Germany at USAF base Ramstein and CFB Baden-Soellingen.  He also served with United Nations Emergency Forces II in Ismalia, Egypt (1977).
Post CAF-retirement, Ray happily worked with Dominion Command of the Royal Canadian Legion, and CFCCHQ, Tunney's Pasture.
Post-Post retirement, Ray started a breakfast club for retired CAF members and worked diligently to organize the creation of a monument and ceremony commemorating the victims of the tragic crash in 1956 of CF-100 Canuck into Villa St-Louis, a retirement and rest home of the Sisters of Charity of Ottawa, located in Hiawatha Park, Orleans.  Ray also continued to read history voraciously, completed three Canada Army 5K walks (2013, 2014, 2015) in Ottawa, keenly followed the daily global and local news, delighted in the extended family of beloved dogs and cats, followed closely the lives and careers of his beloved children and granddaughter Shannon, travelled extensively in the US and Canada, and enjoyed a beer every day at 4pm.  Despite a diagnosis with Parkinson's Disease in 2017, Ray continued to find joy in his interests and passions, including his daily beer.  Upon moving to Portobello in 2020 he was able to receive the additional care and support that he needed, while maintaining loving connections with his close family.
In lieu of flowers, In Memoriam donations to Doctors Without Borders would be appreciated.  A visitation with friends and family will take place at Beechwood National Memorial Centre, 280 Beechwood Avenue, Ottawa, Ontario, at a later date.
---