DROUIN, Jules (Joe) Claude Luc, CWO (Ret'd), MMM, CSTJ, CD, RCASC, RCLS-MSE Op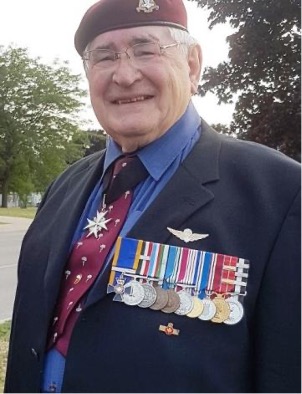 With sadness we announce that Joe passed away suddenly but peacefully at the Buckingham, Quebec Hospital on the 12th of May 2021 at the age of 79.  Born in St-Joseph de Coleraine, Eastern Townships, P.Q.  Beloved best friend and husband of Marlene for almost 37 years.  Father of Luc.  Predeceased by son Andre (2020).  Also survived by step-daughter Petra and step-granddaughter Virginia.
Joe joined the RCASC July 1958. 1961 at Fort Chambly, Germany with NATO Forces. Returned to Canada 1965, served in Ottawa. 1966 first UN tour in Cyprus. April 1969, at the Cdn AB Regt in Edmonton, Alberta.  Feb 1974, at the AB HQ & Sigs Sqn.  With the Cdn AB Regt second tour in Cyprus during the 1974 Turkish invasion.   Served in Montreal during the 1976 Olympics.  July 1977 at the Cdn AB Centre.  1979 at Montreal and assigned to the UN on the Golan Heights. 1981, at 408 Tactical Helicopter Squadron in Edmonton, AB.  While with the Squadron, he was a contributor to the development of the Squadron Museum and was instrumental in the recovery of one of the Squadron's original Lancaster Bombers KB 994.  Feb 1985 at RCLSA, CFB Borden, ON.  Joined St. John Ambulance that year. June 1987 at the OTC, CFSAL in CFB Borden, ON.  Aug 1989, at National Defence HQ BADP/BATOPS project.  June 1990, returned to CFB Borden, CFSAL, as School CWO.  Aug 1992, retired from the Canadian Forces after more than 34 years of service and moved to Gatineau, Quebec. Sept 1992, joined the 28 (Ottawa) Svc Bn as CSM and Nov 1993 he was appointed RSM.  Retired from the Reserve Forces April 1995.
Jan 1996, appointed D/Prov Commissioner of St. John Ambulance and in June appointed the Aide de Camp to the Governor General his Excellency Romeo Leblanc and later her Excellency Adrienne Clarkson until Nov 2001.  For 23 years as a member of St. John he had accumulated well of 25,000 hours of volunteer service to his community.
After retiring Joe formed his own promotional company "Joe Drouin Enterprises Ltd."  With his company, he dedicated his work to the Cdn AB Regt, the RCASC, CAVUNP, Logistics Branch, the Navy, Army and Air Cadets, Police, Fire, Paramedics, and many others.  Nov 2019, after 27 years, he sold his company and retired for the final time.  Tremendous thanks to his wife and former employees who made the company a success and helped to make the name of the company known around the world.
Special thanks to the excellent and supportive staff at the Buckingham Hospital in Gatineau, Quebec.  Joe's wishes were to be cremated.  When it is safe to do so, a Memorial Gathering will be held for Family, Friends and Colleagues at Beechwood, Funeral, Cemetery and Cremation Services, 280 Beechwood Avenue, Ottawa, ON.
In lieu of flowers, a donation could be made in Joe's name to the Perley Rideau Veterans Health Centre at www.perleyrideau.ca or a charity of your choice.
---