DESPARD Roger John Louis, MMM, CD, (Ret'd) RCASC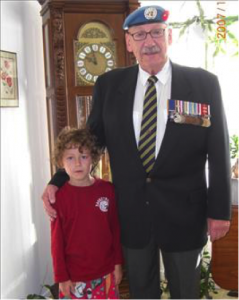 Roger passed away on 18 April 2016 in Gatineau at the age of 84. He is survived by his loving wife and best friend Betty Ann Gaul. Adored father of Michelle (Silverio Castillo) and Nancy (Don Gosson), cherished grandfather of Tiffany (Michael Gassien) and beloved "Poppa" to his great grandsons Aiden, Maverick and Korbin.
He was a decorated soldier with more than 37 years of service, a long time member of the Institut Canadien Francais, as well as a tireless volunteer.
Roger joined The Canadian Army in June 1953 and was affiliated with the Royal Canadian Army Service Corps. He served until his retirement in September 1985. Roger was a Member of the Canadian Association of Veterans in United Nations Peacekeeping and the Royal Canadian Army Service Corp Association. He completed a United Nations tour with United Nations Emergency Force (UNEF) in Gaza from February 1962 to March 1963; with the United Nations Forces in Cyprus (UNFICYP) with the Military Police Company from May 1976 to December 1976; with United Nations Emergency Force Middle East (UNEFME) from November 1969 to May 1970 with 73 Service Battalion; with United Nations Disengagement Observer Force (Golan Heights) from February 1984 to September 1984. He also completed a tour with the International Commission for Supervision and Control (Indo China) from April 1964 to May 1965.
---