DAVID, Harry J, CAPT (Ret'd), RCR, RCAPC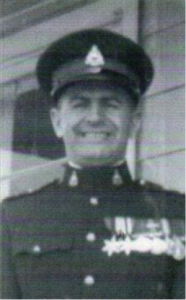 Harry David, a WWII Veteran, passed away peacefully on October 27, 2015. Husband of the late Jessie David (Wing). Survived by his children Cheryl, Stephanie and Steven, Granddaughters Anna and Jennifer and great-grandson Marcus (Anna).
From Bernie Grover, our Past RCLSA National President and a former member of the RCAPC:
Harry David joined the army at Lansdowne Park in Ottawa in 1939, just after he had won the Ottawa Boxing Light Weight Championship. Initially he was a machine gunner in the Cameron Highlanders of Ottawa. In July 1940, the Cameron Highlanders of Ottawa's active service battalion left for garrison duty in Iceland, which ended in April 1941 when they sailed to England. On 6 June 1944, the Cameron's were the only Ottawa unit to land on D-Day at Juno Beach. The 1st Battalion consisted of three machine gun companies and one mortar company. Following the landing on D-Day, the battalion, and Harry David fought in almost every battle in the northwestern Europe campaign. After the war he transferred first to the RCR, then to the RCAPC as a captain. He served until 1967.
In retirement he liked to lecture at Elementary Schools in the Ottawa area, telling stories of his service experience.
---