CRAWFORD, Richard Dwayne, SGT (Ret'd), CD, RCLS – Sup Tech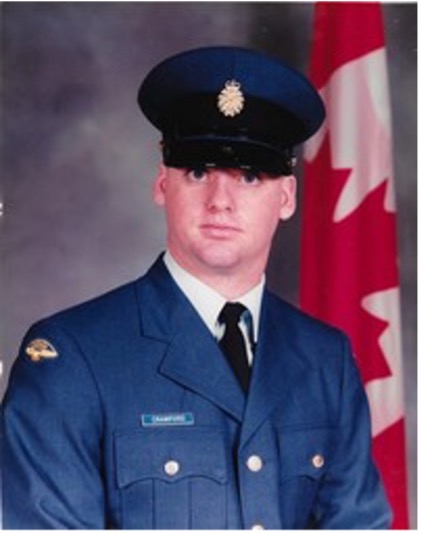 Richard Dwayne Crawford, 50, died unexpectedly on 13 April 2021.  His loss was completely unexpected and the family is shocked and deeply saddened.  Beloved husband of Kalli Crawford (Bennett), loving father of Jack, Step-father to Colin and Aaron Coughlin..  He will also be fondly remembered and missed by many family members, friends and co-workers.
When Dwayne was 20, he decided to join the Canadian Armed Forces (CAF) as a Supply Tech in the Air Force.  He completed his Basic Training in Cornwallis, NS (Sep 1990).  Throughout Dwayne's career he was posted to CFB Borden (1991), CFB Petawawa (1991-1995), CFB Ottawa (1995-2006), CFB Kingston (2006-2011), CJIRU Trenton (2011-2013), CFB Dundurn (2013-2014).  Dwayne also deployed to Croatia (Aug 1994-Feb 1995), two times to Afghanistan (Jul-Aug 2005 & Jan-Oct 2008) and Haiti (Mar-Apr 2010).  Dwayne was a decorated veteran.  He earned the following decorations: United Nations Protection Force Medal (Croatia, Yugoslavia), NATO Medal (Former Yugoslavia), Canadian Forces Decoration, South West Asia Service Medal (Afghanistan), Canadian Peacekeeping Service Medal, General Campaign Star (Afghanistan), Operational Service Medal – Humanitas (Haiti).  Dwayne was also awarded the Task Force Commanders Coin for Outstanding Work completed while on TF Kabul.
Dwayne served as a CAF member for 25 years before retiring in Oct 2014 and becoming a Public Servant with DND as a Water Fuel Environment (WFE) Tech with RP OPS West Dundurn.
Dwayne will be remembered as a kind and gentle person who loved to make people laugh.  He was the life of the party and although he didn't always share his feelings, he cared deeply for all of the people in his life.  His son, Jack was the apple of his eye and his pride and joy.
n lieu of flowers, donations to the Wounded Warriors Canada Organization would be greatly appreciated. www.woundedwarriors.ca/donate (tribute).
Condolences may be made at www.prairieviewchapel.com.  Dwayne's final resting place will be at the Beechwood Cemetery 280 Beechwood Ave, Ottawa, ON near his mom as per his final wishes.  There will be no services held as per Dwayne's request.
---