CRAIG James, LCOL (Ret'd), OMM, CD, RCASC, LOGISTICS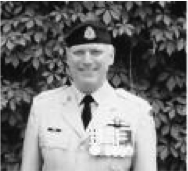 Passed peacefully at home after a courageous battle with cancer on March 20, 2016, age 72. Lovingly remembered by his wife of 50 years Laurie Craig, daughters Susan McLennan and Sarah Craig and granddaughters Emma and Tessa McLennan.
Jim joined the Royal Canadian Army Service Corp in 1965. He received the Canadian Decoration for loyal service and Canadian medals for military service in Vietnam, Israel, Germany and Bosnia-Herzegovina. He was awarded the Legion of Merit for meritorious service with the United States forces during the Gulf War and the Canadian Order of Military Merit.
From his close friend, LCol John Stuart, OMM, CD, Ret'd: Jim was a great friend and we shared many, many good times together during our careers. We thought alike and on a professional level I always gave him the edge as the best Movements Officer the CF ever produced for our time. Jim was responsible for the introduction of the CF Movements Officers Course after serious opposition to it, but its value has been proven time and time again. Jim was a professional, a great friend and I shall miss him.
In his retirement, Jim was the Manager of the Carp Farmers Market and travelled extensively.
Friends may attend a visitation at Tubman Funeral Homes (3440 Richmond Rd., Nepean) on Wednesday, March 30, 2016 from 1:30 p.m. until time of memorial service at 3 p.m. In lieu of flowers please consider donations to the Saint Elizabeth Foundation (www.saintelizabeth.com).
---