COUSINS, Matthew Alexander, MCpl, RCAF – AES Op, Former RMS Clk, RCLS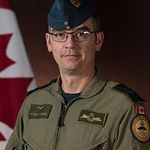 On 29th April, 2020, Master Cpl Matthew Alexander Cousins an Airborne Electrical Sensor Operator with the Royal Canadian Air Force, lost his life along with five other crew members when their helicopter from HMCS Fredericton went down in the Ionian Sea off the coast of Greece. The helicopter was participating in NATO exercises.  Matthew is survived by his wife Joanne and children Taylor and Aiden.
Matthew served in the military for 26 years.  He joined the Army Reserves as an infantryman in 1992 and the Regular Army in 2007 where he served as a Resource Management Support Clerk.  In 2013 Matthew transferred to the Royal Canadian Air Force and began his helicopter career. In 2015 he and his family relocated to Halifax N.S. Matthew loved his job and took great pride in doing that job to the best of his ability.  Matthew had just completed the rigorous training required for his new trade and set sail shortly after being posted to 12 Wing, Shearwater in Nova Scotia to use his new skills on HMCS Fredericton.
His talents were many and often coupled with his quick-witted sarcasm and a smile that could light up a room even in the darkest of times. He had a way of understanding people, a way that could bring the best out in others, and a rugged determination to achieve any goal he set. These qualities would see him through finishing the Ironman competition at CFB Petawawa, and starting a band with his closest friends. Through all of this, at the end of the day, you could always find him welcoming a friend or stranger over to enjoy an evening under the gazebo.
---