COOMBS, Cathy, Capt (Ret'd), CD, Log O Air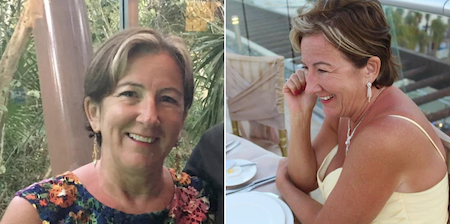 It is with deep sadness, but with wonderful memories that we announce the passing of our wife, mother, nanny, sister and friend on January 31, 2021.  Cathy passed away at home peacefully with family by her side after her courageous battle with cancer.
Cathy will be greatly missed by Alan her loving husband of 45 years, her two sons Scott (Nikki) and Wayne (Kaitlin), grandchildren Lily, Link and two grandbabies on the way.
Cathy enlisted in the Canadian Armed Forces in 1974 at the age of 17.  Cathy did her basic training in Cornwallis, Nova Scotia and then went to Borden, Ontario for training as a Supply Technician.  Cathy's first posting was to Winnipeg, Manitoba.  Over the next 33 years in the Regular Force, plus 8 years in the Reserves, Cathy served at Canadian Forces Station (CFS) Gypsumville, Manitoba; National Defense Headquarters in Ottawa, Ontario; Lahr, Germany; CFS Debert, Nova Scotia; Camp Aldershot in Kentville, Nova Scotia; Canadian Forces Base Greenwood, Nova Scotia and 1 Canadian Air Division Headquarters in Winnipeg, Manitoba.
Cathy's career also included deployments of the Joint Task Force Southwest Asia in 2001, Joint Task Force Afghanistan in 2007, and Joint Task Forces Game (Olympic and Paralympic Games in Vancouver) in 2010.
After 41 years of service, Cathy went from Private to Chief Warrant Officer and finished her career as a Captain in Winnipeg, Manitoba.  Her dedication and loyalty to her career was truly inspirational, as she consistently served Canada before herself.  Cathy enjoyed all aspects of her career especially the friendships made.
Cathy was always a blast to be around; her sense of humor was like none other.  She was a social butterfly that loved to have family and friends around, but was always the life of the party.  Anyone that knew Cathy knew that she had no filter, and told it as it was.
During her short retirement, Cathy loved spending time at the lake, enjoying campfires, boat rides, fishing, but most of all she enjoyed lounging on the beach with her family, especially her grandchildren and all her friends.
Cathy, you will be greatly missed and never forgotten. We will cherish all of the wonderful memories made and hold you in our hearts forever.
In lieu of flowers, if so desired, donations may be made in her memory to Cancer Care Manitoba or a charity of your choice.
A private family service will be held on Friday February 12, 2021.  Funeral arrangements are entrusted to Chapel Lawn Funeral Home & Cemetery.
From Maj (Ret'd) John Page, National President, RCLSA:
Cathy was my replacement Platoon WO when Dave MacGillivary was posted and promoted.  A wonderful lady with a great sense of humour…especially as an experienced air element leader coming to an Army environment with 4 Svc Bn, Lahr FRG
From Wayne Arsenault, CWO Sup Tech (Ret'd):
It is with a heavy heart that we share the following obituary for our dear friend and comrade Cathy Coombs.  A great lady I had the pleasure to serve with and honoured to call my friend!  We miss you Cathy! Xoxo
---