CLARRY, John H.C. "Jack", Colonel (Ret'd), MBE, ED, QC, CD, RCASC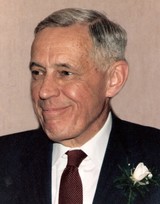 Lawyer, soldier, woodlot proprietor, beer lover, generous provider.  John Hamilton Cameron Clarry passed away peacefully at home on Friday, January 12, 2018.  Born September 20, 1919 in Calgary to parents Ernest and Jean Clarry.  Survived by his three children and five grandchildren: Susan (Sara and James), David (Andrew and Cameron), and Michael (wife Michelle and son Max).  Predeceased by the love of his life, Elizabeth Joy Denton Clarry, and his sister Norah.
Displaced to Toronto by the Great Depression, where he attended and graduated from UTS, University College at U of T, and Osgoode Hall (Silver Medal recipient).  John's lifelong connection with the Canadian military began as a cadet at UTS. He joined the army as a private in the Irish Regiment of Canada (Militia) in Toronto in 1937, but joined the RCASC in 1938 while in the COTC at the University of Toronto. He went on active service as a 2/Lt in 1940 and served in England in 1 CDN Corps Troops Supply Column and 2 CDN Corps Petrol Company. He subsequently served at HQ RCASC 1 CDN Corps, at HQ 2 CDN Div and at the Canadian HQ Planning Staff in London. In 1944-45, he was DAQMG (Maintenance) at HQ 1 CDN Army and later AQMG (Maint) with HQ Canadian Forces Netherlands, and was made a Member of the Order of the British Empire for his service.
After the war, Jack was active for many years in the reserve forces notably from 1952-55 as CO of 2 Armd Division Column RCASC, which became 5 Column RCASC. He was later appointed Honourary LCol and then Honourary Colonel of 25 (Toronto) Service Battalion, and later as Honourary Colonel of 32 Service Battalion, Toronto.
His connections also included 35 years of volunteer service with the Army Cadet League, and enjoyment and leadership with the Royal Canadian Legion and the Royal Canadian Military Institute.  Recognition included the Order of Orange-Nassau for his contribution to Canadian military operations in Holland at the end of the war, Past Honorary Counsel of the Conference of Defence Associations, Honorary President of the Royal Canadian Military Institute, and the Colonel John H.C. Clarry Award recognizing Ontario's top large cadet corps.
Jack was a founding member of the Royal Canadian Logistics Service Association(RCLSA) in 1972, wrote our first Constitution and was our Honorary Counsel for many years.
His legal career with McCarthy Tetrault spanned over 40 years, including a period as Managing Partner.  During that time, he was valued by clients and colleagues as someone adept at translating complex legal issues into business terms and translating business agreements into clear and useful legal documents. He was a quiet, progressive person who provided thoughtful insights to clients and numerous Boards on which he served, as well as being a mentor to younger lawyers.
John's personal life was centred on family and on Grasshopper Park, the family weekend retreat and reforestation project.  He understood that time and a few thousand seedlings could turn an abandoned farm into a thriving forest, and watching that come to fruition over the decades gave him much pleasure.
The family will receive friends at the HUMPHREY FUNERAL HOME A.W. MILES – NEWBIGGING CHAPEL, 1403 Bayview Avenue (south of Davisville Avenue) from 2:00 – 4:00 and 7:00 – 9:00 p.m. Friday, January 19th.  Funeral service to be held in CALVIN PRESBYTERIAN CHURCH, 26 Delisle Avenue on Saturday, January 20th at 1:00 p.m.
In lieu of flowers, donations are encouraged to the Army Cadet League of Canada (Ontario), 1200 Markham Road, Suite 527, Toronto M1H 3C3 (www.canadahelps.org), or Haven Toronto (formerly the Good Neighbours' Club), 170 Jarvis Street, Toronto M5B 2B7 (www.haventoronto.ca), or another charity of your choice.  Condolences, photographs and memories may be forwarded through www.humphreymilesnewbigging.com.
From our Colonel- Commandant, MGen (Ret'd) M.E. McQuillan, CMM, CD
Such a distinguished career and service to Canada and the Logistics community in time of war and peace. My sincere thanks and prayers go out to his family at this time of loss.
---