BUCKERIDGE, William (Bill) G, Cdr (Ret'd), CD, RCN, Sea Log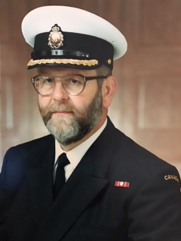 Bill, age 79, passed away Tuesday 4 September 2018 in Duncan, BC.  Born in North Vancouver, he is survived by his wife Stephanie, two children and four grand daughters.
Bill joined the Royal Canadian Navy in 1957 and attended College Militaire Royal, and Royal Military College graduating in 1962.  After his Pre-Fleet course he was posted to HMCS Columbia where he qualified as both a bridge and engine room watch keeper.  In 1966 he attended the Naval Supply School in HMCS Hochelaga, Montreal.  On graduation he was posted to HMCS Fraser as Supply Officer.  In addition to his supply duties he also served as a bridge and operations room watchkeeper.
In 1968 Bill was posted to the DEVIL program at NDHQ.  Following four years at this posting he attended the Canadian Forces Staff College and was then posted to CFSAL, CFB Borden as the Advanced Logistics Officer Course Director.  On promotion to Commander he was posted to the Directorate of Financial Services at NDHQ, followed by a posting in 1968 to the Canadian Patrol Frigate Program as the Integrated Logistics Support Manager.  He was then posted to CFB Esquimalt as Base Supply Officer and subsequently to Hamburg, Germany as the Logistics Director for the NATO Frigate Replacement for the 90's Project.  In July 1991 he served as Command Comptroller at CFB Trenton followed by his final posting to the West Coast where he served as the Commanding Officer of HMCS Protecteur, the first Logistics Officer to command an AOR.
Bill retired in 1995 and with Stephanie enjoyed life at their Hobby Farm in Duncan where he utilised his training from his 1996 Horticulture Course to maintain a large vegetable garden and several apple trees.  Bill served as the Treasurer of the Cowichan Therapeutic Riding Association for many years.
At Bill's request there will be no funeral.  He has been cremated and his ashes will be scattered at sea at a later date.
From Cdr (Ret'd) R.R. Duffield, RCLSA Lest We Forget Co-Ordinator
Bill was my Best Man and best friend for over 50 years.  The only time we served together was onboard HMCS Columbia, but we maintained close contact wherever we served.  We had frequent family visits.  I was at SHAPE Headquarters when Bill was in Hamburg and we enjoyed several visits back and forth.  We both returned to Canada at the same time, and taking advantage of a special deal from Cunard we crossed the Atlantic onboard RMS Queen Elizabeth II.  Post retirement our families maintained close contact with frequent visits between British Columbia and Ontario.  Fair winds and following seas my friend.  Dick sends.
---