BROYDEN, Wilfred (Wilfy, Willie, Wilf, Bobby), CPO1 (Ret'd), MMM, SSM, CD, RCLS-Sup Tech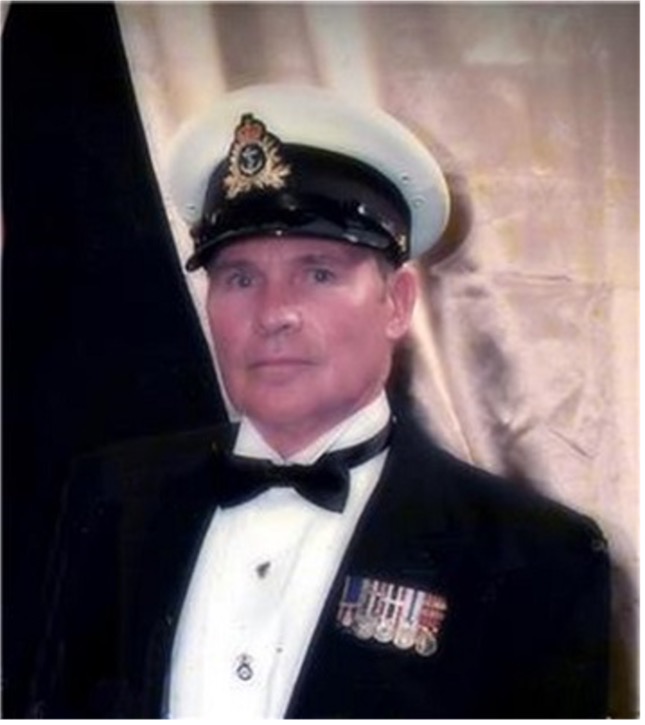 Wilfred was born in Hochelaga, Quebec on 1 September 1940 and passed away in Liverpool, England, UK. on 5 September 2021 at age 81.  He is survived by his wife Carol Shelley (nee Taylor), her 3 children Karen McIntyre (Jamie), sons Paul (Paula) Shelley, Gary Shelley.  It is from Karen and Gary that he was gifted with many grandchildren and from his former wife of 34 years Della E. June (nee Publicover) Broyden, children Christopher and Christine (Ben Gibbons).  Christine, like her Dad, is also a Sup Tech.
Wilfred grew up in Toronto, Ontario and adopted Nova Scotia and the Navy as his home.  He joined the Royal Canadian Navy under age first as a Signalman but spent his life and career as a Storesman extraordinaire.  During his time in the Navy, he also moonlighted driving taxi, working at the Sports department of Canadian Tire (Tacoma Drive, Dartmouth), and as a driver at Autoport.  He wrote the entrance exams for Saint Mary's University and furthered his career by taking first year courses for a BA before being posted to Rockcliffe, Ottawa, Ontario.  He served on both surface ships (HMCS Provider as a member of the commissioning crew, HMCS Ottawa in 1985/86, HMCS Qu'Apelle, and HMCS Iroquois) and all three "O" boats (HMCS Ojibwa, HMCS Okanagan and HMCS Onondaga, the latter as a Leading Seaman from 1968 to 1973) and at Marcom HQ, SSO Sea Log, Halifax in 1993.
He spent time in Rhode Island and later moved to Wales and England with his wife Carol. They spent many of their 21 years of marriage between summers in the UK with Carol's three adult children (Karen, Paul, Gary and spouses, and grandchildren), and Bulgaria and winters in Florida.  Wilfred was a former Boy Scout, Cub master (1st Shearwater) and a Master Mason (Cornwallis Lodge).  He belonged to and supported many organizations and was especially proud of his membership in the Royal Canadian Legion, Royal Navy Association, The Submariners Association of Canada, and The Chief and PO's Atlantic Association to name but a few.   He enjoyed his neighbours and neighbourhood " beautiful Eastern Passage -Cow Bay by the sea" and took immense joy in scaring the kids on Halloween.
There will be a memorial service held at St. Peter's Anglican Church, 346 Cow Bay Road, Eastern Passage on November 8, 2021 at 1 PM with reception to follow at the Royal Canadian Legion 164 Eastern Passage,1341 Main Road, Eastern Passage, NS (to be held directly after the funeral until 4:30pm).  Wilfred loved pomp and ceremony, so please feel free to dress in formal attire with medals if you wish.  Either way the gift of your presence and camaraderie is greatly appreciated.  For those who can't make it in person the service will be on the Saint Peter's Anglican Church website:
https://www.anglicanparishofeasternpassage.ca
If you are attending in person all are welcome but you must show proof of vaccination and photo ID.  As far as interment of his ashes, he expressed on his birthday Sept 1, just a few days before he passed, that it was his wish to have his ashes spread from either HMCS SACKVILLE, or a CPF (Canadian Patrol Frigate) but preferably from HMCS SACKVILLE.  At this time that has not been determined.
From Capt (N) (Ret'd) Fred Schmidt
Wilf was probably the best "Yardologist" in the Navy.  He knew every nook and cranny and person to reach out to get provisions and materiel for the mission.  He was a 1st class victualler.
I spoke to him a couple of years back via phone, when I learned he was ill.  He was on the mend and seemed happy in his new life in England.
To me he was a friend, shipmate and mentor in the ways of Navy supply and victualling. We didn't share his love for the foreign port "adventures".  But I did appreciate his professional side and utmost loyalty to the mission.
---