BRADLEY, Eugene (Gene) Francis, CPO2 (Ret'd), CD, Naval Storesman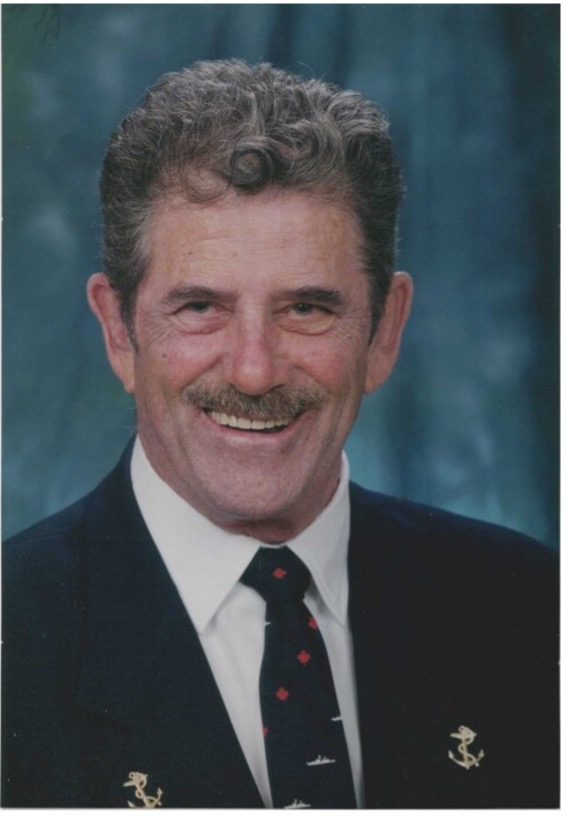 It is with great sadness that the family of Eugene Francis Bradley announces his peaceful passing in Ridgewood Veteran's Health Wing, Saint John, N.B. at the age of 87 on 14 November 2022. A loving son, brother, husband, father, grandfather, great-grandfather, uncle and friend, Eugene was affectionately known as Gene or Brad. He was born in Saint John, N.B. and was a proud South Ender.
Eugene is survived by his wife, Shirley, his six children, Cathy (Leo) Thibodeau, Wellington, N.S.; Danny (Wanda) Bradley, Coldbrook, N.S.; Marie (Benji) Stevens, Victoria Cross, PE; Patti (Dave) Johnston, Coquitlam, B.C.; Paul (Stephanie) Bradley, Lower Coverdale, N.B.; Peter (Darlene) Bradley, Georgetown, P.E.I.; stepson, Scott (Shelley) McLaughlin, Hampton, N.B: and by his first wife and mother of his children, Patricia (Moore) Zinck. He is also survived by his nine grandchildren; Angeline, Justin, Jarred, Jeffrey, Melinda, Brad, Vanessa, Alex, and Stephen; two step grandsons Noah and Jacob. Also survived by 16 great-grandchildren: Sarah, Kahlan, Brayden, Emalee, Jacob, Lillian, Linor, Scarlett, Roman, Connor, Ben, Molly, Lyla, Lexi, Brooke, and Cooper.
Eugene served his country for 28 years as a proud member of the Royal Canadian Navy. He continued his career at #5 Supply Depot, Moncton, N.B. and retired in 1994 after being employed with Transport Canada.
Eugene was a long-standing member of the Royal Canadian Legion since 1966 and received his pin of 55 years of service in March 2021. He moved to Hampton, N.B. in 2004. His love of service led him to volunteer and work tirelessly for the Hampton Legion's Sunday Brunch Program, The Poppy Campaign, and other Legion functions.
A devout Catholic, who was faithful to his religion, Eugene devoted himself to various ministries within his church and as a member of the Riverview Knights of Columbus (929 council). He assisted in many Council projects. He formed many lasting friendships within his church family, including the late Archbishop Daniel Bohan. Eugene was always available to assist family and friends and his love for family and friends was evident in all he did. Spending time with family and friends was always a highlight for Eugene and all enjoyed memorable times together.
Donations to Ridgewood Veteran's Wing, The Royal Canadian Legion or to the charity of the donor's choice would be appreciated. The family is truly thankful to the staff for taking such wonderful care of the Chief throughout his stay and final days at Ridgewood. "IT IS WELL WITHIN MY SOUL"
---