BEATON, Gary Joseph MWO (Ret'd), CD, PAdm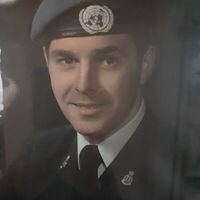 Gary, of Dartmouth, Nova Scotia and born in New Waterford, Nova Scotia passed away at age 75 on 4 January 2021 after a short but courageous battle with ALS.  Gary was an amazing husband, father and grandfather.  He is survived by his wife of 51 years, Faye Beaton (nee Trudel), 3 beautiful daughters, Janice, Christine and (preceded in death by) Julie, and 5 wonderful grandchildren, Walton, Edison, Scarlett, Iver and Newton.  He will be greatly missed by many cousins, nieces, nephews and friends.
He joined the Canadian Air Force at the age of 19 and experienced an exciting and successful career, traveling to many places around the world.  He served in the Air Force for 36 dedicated years and earned a well-deserved retirement in July 2000.
After his retirement, he and his wife, Faye, spent many wonderful years traveling and visiting their children and grandchildren.  Gary and Faye spent 10 years as Snowbirds, traveling to Florida to spend the winter months.  It was one of their favourite places to be. Gary loved to fish and golf and spent countless hours doing what he loved.
A Celebration of Life is pending due to COVID restrictions.
In lieu of flowers, donations may be given to the ALS Association or to a charity of choice.  Condolences may be left at:
https://www.dartmouthfuneralhome.ca/obituary/gary-beaton
From Bryan Elliott
For all my military friends (Administrative Types) we lost a good person today.  Gary Beaton passed away in Halifax, NS.  Gary was one of the good ones.  Gary was our MWO in Heidelberg back in the late 80s and was part of the famous "Heidelberg" Curling teams at the annual Administration Curling Bonspiel.  Our condolences go out to his wife Faye and the Family.  RIP Gary. "The dream never dies, just the dreamer."
---