AYOTTE, Hugo, MWO, CD, RCLS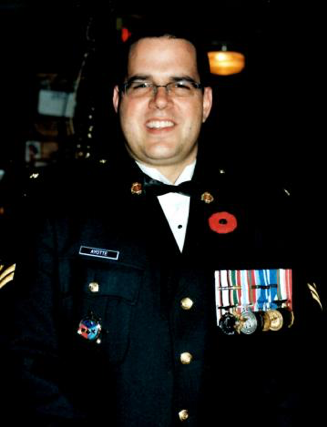 Hugo passed away on Tuesday September 17, 2019 at the age of 45 after a courageous fight against cancer.  He is survived by his wife Julie Héroux and children Maxim (Erika) and Viky.
MWO Ayotte joined the military on 10 Dec 1992 with the Reserve Artillery. On 1 April 2004 he joined the Regular Force as a Supply Technician.  He deployed on several Operations including OP STABLE, OP TUCAN, OP APOLLO, OP PALLADIUM, OP ATHENA, OP ARCHER and TF AFGHANISTAN (ROTO 1,2 and 5).
He will be remembered for his big heart and love of the military.
Friends are invited to visit the Hall of Colours of the Beechwood National Memorial Centre, 280 Beechwood Ave. Ottawa on Saturday October 5, 2019 after 11 a.m.  A Memorial Service will be held in the Sacred Space at 1 p.m. followed by interment with Military Honours at the National Military Cemetery of the Canadian Forces and a reception.
In memoriam donations to the Fondation et Centre Carmen (www.centrecarmen.ca) would be appreciated.
---