AUDET, Raymond, BGen (Ret'd), CD, RCLS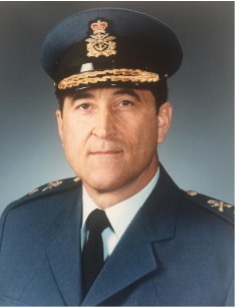 It is with profound sadness that we announce the sudden but peaceful passing of Raymond Audet on Monday July 19.
Raymond is survived by his wife of 59 years of marriage, Ginette, daughter Nadine, son in law Pierre, grand sons David, Maxim, great grandsons Laurent, Pierre, Alexandre along with his sister Béatrice (Gilles St Laurent).  He will be sadly missed by his nieces, nephews, and friends.
Raymond will always be fondly remembered as a charismatic individual that loved people and life.  He was a great athlete, but tennis was his favorite sport, which he enjoyed playing with his circle of friends.  Another of his passions was driving his boat on the Mistassini River (Lac St Jean) at his summer residence.
Born in Dolbeau, Qc, on August 30, 1938, he attended school in his home town until 1955 before continuing his education in Shawinigan and Quebec City.  In 1960 he graduated from Laval University, obtaining a degree in Business Administrations as well as becoming an accredited member of the Professional Association of Chartered Administrators of Quebec since 1969.
After Logistics training in the Canadian Forces Base (CFB) Centralia, Ont., Flying Officer Audet was posted to Chatham, NB as Material Control Officer specializing in aircraft fleet support.  Promoted flight lieutenant in 1966, he attended the Canadian Forces Staff School and later took responsibility for the logistics support of the radar station in Lac Saint-Denis, Qc.
In July 1970, he was promoted to the rank of major and appointed Base Supply Officer, CFB Ottawa.  The following year he attended the Canadian Forces Staff College, Toronto.  Upon graduation, he was transferred to Headquarters, Canadian Forces Europe, where he served as a double-hatted Staff Office in National and International Logistics based in Lahr, Germany.
He was promoted lieutenant-colonel in 1975 and spent the next five years in Mobile Command, Saint-Hubert, Que., first as Command Coordinator for the Bilingualism and Biculturalism Program, second as Technical Services and Manpower support for the 1976 Montréal Olympics (COJO Support Group) and finally, as Base Technical Services and Base Administrative Officer, CFB Montreal.
Ray was posted to National Defense Headquarters (NDHQ), Ottawa in 1980 in the capacity of Assistant Director, Supply Procurement Control and Administration, and became Director of the same directorate in 1982 and selected to attend the National Defense College course beginning in September 1982.
On completion of four years as Deputy Chief of Staff Logistics at Air Command Headquarters in Winnipeg, he was then posted in August 1987 to NDHQ as Director of CANEX.  In May of 1988, he was promoted brigadier-general and appointed Director General Supply Systems for the Canadian Forces.  In 1991, he was pointed Director of Personnel Services.
Brigadier-General Audet retired in 1993, spending his summer months at his summer residence in Dolbeau-Mistassini, Qc and winters in Ottawa, Ont.
Due to government-imposed restrictions related to COVID 19, there will be no ceremony at the Beechwood Cemetery.
---