ANDERSON, Andrée, Lt (N), Ret'd), RCN-Log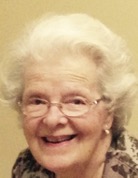 It is with the greatest sadness that we announce the passing of our beloved mother, Andrée Anderson (née Savoie).  She died peacefully of natural causes on Feb 17.  Despite enduring over 15 years of Parkinson's, she surprised many with her strength, patience, and determination to fully enjoy and partake of her life.
Andrée is deeply mourned by Marie (Jamie), John's widow Nasim, and Michael (Crystal). Andrée's grandchildren will also miss her: Andrew, Douglas, Brent, Grant, Maeve, and Hannah.  She is predeceased by her husband Francis (Capt(N), MARE) and her son John who both passed away within a short time of each other last May.  She leaves behind friends from CFUW, the Redwoods, and St Patrick's Home.
Andrée was born in 1926 in Plessisville Quebec, part of a long line of Savoie and Huard ancestors.  She was a trail-blazer for her time, earning both her Bachelor and Master's degree from Université de Laval.  She started her career at Quebec Hydro, and then later served in the Women's Royal Canadian Naval Service (Wrens).  She completed the RCN Supply Officer Technical Course in 1954.  Her service included time as the Aide to the Admiral at HMCS Stadacona in Halifax.  She made many life-long friends amongst her fellow Wrens.  She also enjoyed having meals and socializing at the Officer's Mess, including with one officer by the name of Francis. They ultimately tied the knot, and were married for over 60 years.
After marrying, she devoted herself full time to raising her family.  For her final career, she leveraged her fluent bilingualism to become a Professor of French language and finally taught English as a second language (ESL).
Above and beyond all the things she did, people will more likely remember her for who she was. Throughout her life, she was an avid reader, very gracious in conversation, keenly interested in current events & the human stories behind the people that she met. Attention to detail and style were her hallmarks, including such things as always remembering to thank people.
A funeral service will be held at a later date, when conditions are more amenable to travel and gathering socially.  To be contacted for the date and other details, or to send condolences directly to the family, please email InMemoriam.TKH9Z@ncf.ca In lieu of flowers, a donation may be made to the Parkinson's Society of Canada (www.parkinson.ca).
---