MND hands over first of 120 donated Lee Enfield rifles and bayonets to Latvian counterpart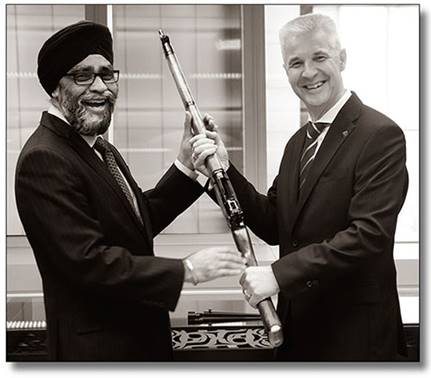 In a ceremony at NATO Headquarters in Brussels, the Minister of National Defence officially handed over the first of 120 deactivated Canadian .303 Lee Enfield rifles with bayonets and scabbards to his Latvian counterpart, Minister of Defence Artis Pabriks.
The rifles and bayonets will be used during ceremonial events by the Honour Guard Company of the Latvian National Armed Forces Staff Battalion, which is outfitted in historical Second World War uniform and was seeking an appropriately historic weapon to complete its look. The Lee Enfield rifle was adopted in 1919 by the newly-established Latvian Army, which is celebrating its centenary in 2019.
The items were first requested from Canada by Latvia's National Armaments Director in 2018 during a meeting with ADM(Mat) Patrick Finn on the margins of the NATO Conference of National Armaments Directors. That request launched an intensive effort by staff in the Materiel Group's Directorate of Supply Chain Operations to identify the items, expedite a declaration of surplus, obtain ADM(Mat) approval for a directed donation, and prepare a Donation Agreement for Latvian signature.
With one rifle shipped to Latvia at the end of May in anticipation of the Ministerial handover ceremony and the remaining 119 rifles transported aboard an RCAF resupply flight at the end of July, the donation represents a gesture of goodwill towards a NATO ally that has committed considerable resources to hosting the Canadian-led Forward Presence battlegroup as part of NATO's Operation REASSURANCE.
Le MDN fait don du premier de 120 fusils Lee Enfield et baionnettes à son homologue de la Lettonie
Lors d'une cérémonie au siège de l'OTAN à Bruxelles, le ministre de la Défense nationale a officiellement remis le premier de ses 120 fusils .303 canadiens désactivés, munis de baïonnettes et de fourreaux, à son homologue letton, le ministre de la Défense Artis Pabriks.
Les fusils et les baïonnettes seront utilisés lors des cérémonies par la Compagnie de la Garde d'honneur du bataillon d'état des forces armées nationales de la Lettonie, qui porte un uniforme historique et qui cherchait une arme historique pour compléter son apparence.  Le fusil Lee Enfield a été adopté en 1919 par l'armée lettone nouvellement créée, qui célèbre son centenaire en 2019.
En 2018, le directeur national des armements de la Lettonie a demandé ces articles au Canada au cours d'une réunion avec le SMA(Mat) Patrick Finn, en marge de la Conférence des directeurs nationaux des armements de l'OTAN.  Cette demande a incité le personnel de la Direction des opérations de la chaîne logistique du Groupe des matériels à s'efforcer d'identifier les articles, d'envoyer rapidement une déclaration de surplus, d'obtenir l'approbation du SMA(Mat) pour un don dirigé et de préparer un accord de donation qui fut soumis à la signature de la Lettonie.
En tenant compte du fusil expédié en Lettonie à la fin du mois de mai en prévision de la cérémonie de passation du pouvoir ministériel et des 119 fusils restants transportés à bord d'un vol de ravitaillement de l'ARC à la fin du mois de juillet, le don représente un geste de bonne volonté envers un allié de l'OTAN qui a commis des ressources considérables pour accueillir le groupement tactique sur la présence avancée renforcée dirigé par le Canada dans le cadre de l'opération REASSURANCE de l'OTAN.
---