Interim President's Update as of 07 May 2017
Thank you for the opportunity to address each of you in these exciting times as we move forward in preparation for our 50th Anniversary celebrations in 2018! Over the last two months we have been making strides in transforming and revamping our communications tools and looking at the way ahead.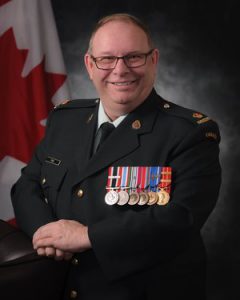 Fellow Logisticians
Thank you for the opportunity to address each of you in these exciting times as we move forward in preparation for our 50th Anniversary celebrations in 2018! Over the last two months we have been making strides in transforming and revamping our communications tools and looking at the way ahead.
Some of the things that we have been involved in:
March was the Annual General Meeting of the Conference of Defence Associations and their Ottawa Conference, that I was able to represent you at. We are very fortunate to have both a Contributing Fellow, Chuck Davies; and, the Association Outreach Member, Sean McGrath; as part of the CDA staff, which helps to ensure that our Association has a voice that is listened to. We were fortunate enough to have the opportunity for our NCR Chapter President, Barb MacInnis, participate on a round table discussion with the Commander RCAF while I participated in the Round Table with the Veterans Affairs Minister early in 2017. The CDA provides us with unique opportunities to advance the interests of Logisticians in a national forum that has the ear of key stakeholders and policy makers.
In April, I was able to put together a Draft Campaign Plan to move the Association forward over the long term. I have socialised it with both the National Executive team and your leadership for their feedback, and was able to solicit input from both the Colonel-Commandant, Branch Adviser and Branch CWO. The next step is to share it with you via these means for your feedback as well. It is long term, but needs some quick successes to gain momentum…and I am counting on our 50th Anniversary celebrations to bring those small successes and grow our Association.
I was also able to represent you on the National Logistics Service 50th Anniversary Steering Committee. Although much more will be coming down the chain of command in the near future, the key places where we as an Association are contributing are in fund raising and drumming-up support; helping to organise and support local events; especially sports, recreation and social ones that can reach as many Logisticians as possible. Get involved in our community by helping and participating in the upcoming events…at the local and regional levels, besides Birthday Parties with the ubiquitous Cake on 01 Feb 18; Mess Dinner's and Dinging-In's on Friday 02 Feb 18 across Canada; Logspiels, Golf, Baseball and Hockey tournaments…take the opportunity to invite our retired and civilian members to participate as a 50th Anniversary Re-union event; in many places there are still strong single-service Associations that should be invited to participate as well.
The National Executive is sponsoring the Publication of a coffee-table Logistics Historical Picture Book that is already quite advanced. Although we have a good number of pictures, we can still use more and are soliciting your pictures. I have attached the form and link to submit photos for consideration. The sooner we have them, the better, as we are planning to start production and publication on time to meet a January 2018 distribution date. We are also supporting the publication by Mike Hendrigan of a Logistics Humorous Anecdote collection! He needs one funny story from every Loggie in order to make it a success, let's help him out!
There will be a Branch Flag relay, sending it around the world using every mode and method of transportation possible; with a view to having it arrive on time for our Branch Parade on Parliament Hill in October/November 2018 and be presented by the Senior Logistician to the Governor General in front of the assembled masses. The culminating event will be a Logistics Ball in the NCR following the parade…. Get involved and help move this forward, take part, take pictures, blog/vlog, and be a part of our celebration.
We are re-vamping and updating our web presence, our membership process and communications tools to make things better for all of us. With the feedback that I have received from your leadership, we are moving in the right direction and providing some tangible benefits for everyone. One of those benefits that we will be launching tomorrow 08 May 17 is our first Affinity Program with Street Capital a mortgage company that is affiliated with several other sister Military Associations, including the Military Engineers, Communications and Electrical Engineers and several others. Take a look and if you are one of the fortunate few being posted this summer, or are just in need of a mortgage renewal, check them out and give them an opportunity. Tied in with the Branch Fund and CANEX, all new members of RCLSA and/or the Branch Fund receive a discount off of Logistics Kit Shop items in the month they join or renew their membership!
Tied in with the functional membership and communication tool, will be the ability to conduct our next Annual General Meeting in a virtual environment and give you the opportunity to provide feedback, and more importantly – to vote for what you want the Association to be. I am also looking for people to be on the following committees in the very near future:
a. Board of Directors nominating Committee;
b. Constitution/Governance Review Committee;
c. History and Heritage Committee;
d. Museum Committee in support of CF Logistics Museum;
e. Finance and Fundraising Committee;
f. Communications and Outreach Committee; and
g. Membership Committee.
We are moving forward slowly. Small successes and baby steps will help us to move forward. What can you do to participate….well, first is to become a member of the Association, either directly or through the Branch Fund. Then get in touch with your friends and colleagues to get involved, come to a meeting, participate, write something…even just join and post to our Facebook Page or to the Webmaster.
Thank you for paying attention and for helping to build the association.
John
John B. Page, CD, PLog
Interim President| President par interim
Royal Canadian Logistics Service Association | l'association logistiques des forces Canadiennes
Major EJG Holland, VC, Armoury | Manege militaire le major EJG Holland, VC,
2100 Walkley Road, Ottawa, ON K1G 3V3
---