Canadians at Arms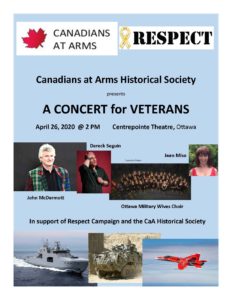 Upcoming events, CONCERT for VETERANS and COMEDY for VETERANS.  Both take
place on 26 April at the Centrepointe Theatre in Ottawa.  The CONCERT is at
2 pm and the COMEDY at 7 pm.
The CONCERT has a general admission price of $35.75 but Veterans and their
families get a special price of only $9.  You can find information on these
events on our website.  Veterans should use the code VETS3 when buying
tickets to get the special price.
COMEDY has a price of $25-45/seat.  There is no discount for Vets but those
with ID (CFOne or something like it) will get a special gift at the door.
Attached you will find brochures for these events.
Visit https://canadiansatarms.ca/concert-for-veterans/ for details.
---