2020 RCLS Cake Challenge (RCAF)
1. On behalf of myself, CWO Filiatrault, the RCAF Logistics CWO, and CWO Robinson, the A4 Foods, I would like to extend my personal thanks to all of the contributing Wings to this year's RCLS Cake Challenge. The 2020 iteration showcased the outstanding culinary skills of our RCAF Foods personnel with some truly inspiring cakes being presented for competition.
2. Since 2014, MSS Food Services organizations across the RCAF have been asked to create a cake to both celebrate the RCLS' birthday and to compete for a chance at winning the coveted Cake Challenge Trophy (and of course bragging rights!). As this year marks the 75th anniversary of Operation FAUST, A4 Foods sent out a challenge to the Wings asking that their creation's theme focus on this important Operation. As to be expected, our RCAF Wing Cooks and Food Services Staff did not disappoint.
3. Several Wings produced some simply amazing cakes this year, making it extremely difficult for the panel of judges (A4 Logistics Branch) to select a winner. The assessment criteria (maximum 100 points) used by the panel was as follows: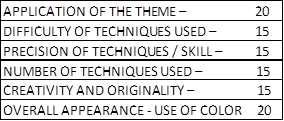 4. After a long period of deliberation, the judges selected their top three finishers:
a. In 3rd Place: 17 Wing MSS Foods with a total score of 87 points
b. In 2nd Place: 19 Wing MSS Foods with a total score of 91 points
c. And in 1st Place, and making their first trip to the winner's podium with a total score of 96 Points, 4 Wing MSS Foods!
5. Once again, congratulations to all the Wings for their submissions. The amazing effort dedicated to the Challenge was definitely noted. I was very impressed with the amount of Team research into this year's theme; research which was clearly visible in individual cake design and the intricate details on display. BZ!
6. List of past winners:
a. 2014 – 19 Wing
b. 2015 – 8 wing
c. 2016 – 8 Wing
d. 2017 – 19 Wing
e. 2018 – 8 Wing
f. 2019 – 17 Wing
g. 2020 – 4 Wing
---